GET $10 OFF AUTOMATICALLY TODAY!
Plant-based meals with 10g of protein, made in 90 seconds.
Plant-based meals with 10g of protein, ready in 90 seconds. A soup for anyone! Whether you're plant-based or not. Simply heat in microwave for 90 seconds & enjoy
Around the clock nourishment whenever, wherever you need it Eat good, feel good with high-protein, nutrient-rich real food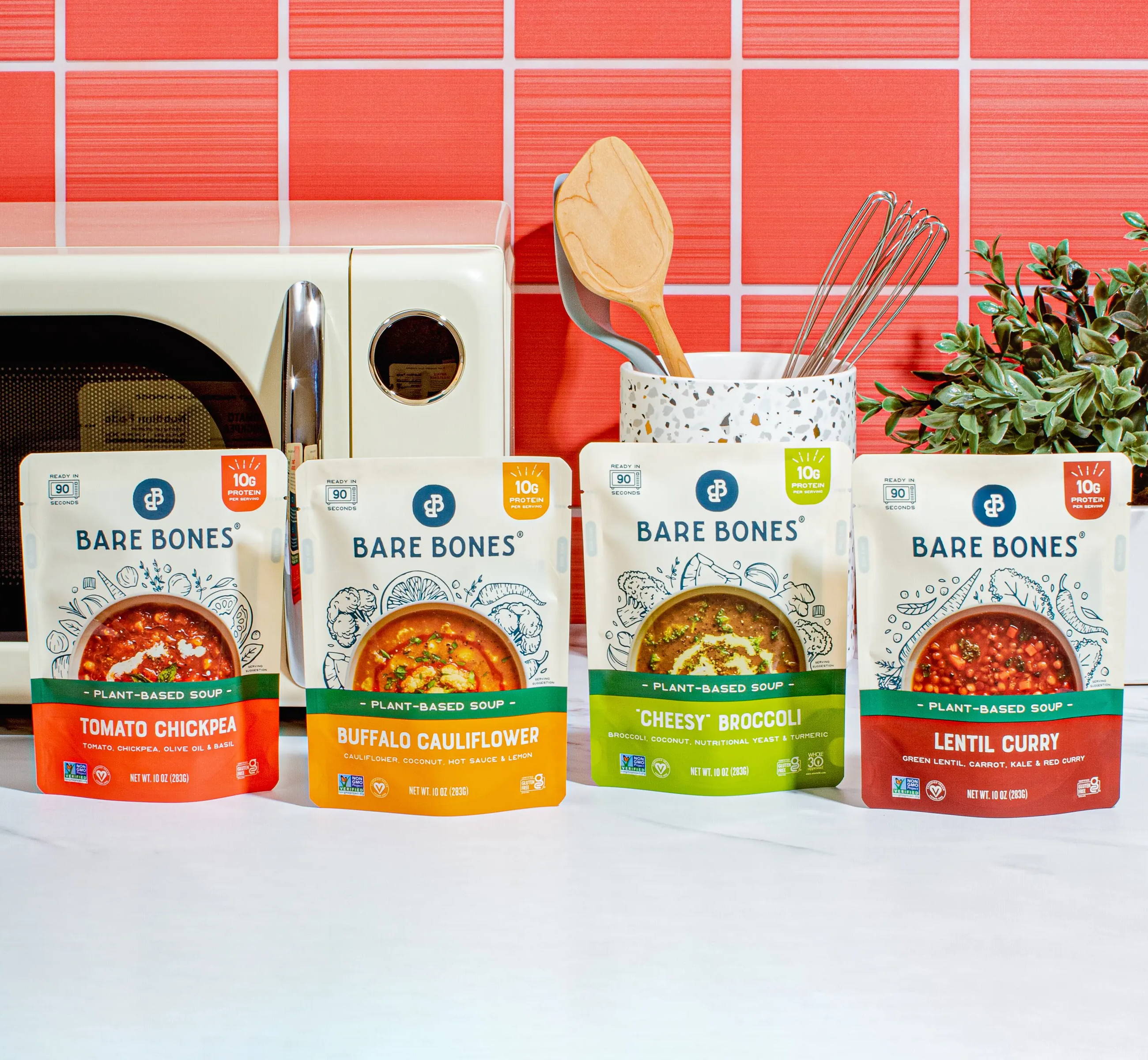 Inspired by the Italian classic, minestrone, our Tomato Chickpea soup marries nostalgic tomato soup and Italian flavors with chickpeas and pea protein for a satisfyingly nourishing ready-to-eat meal or snack.
---
Inspired by our love of all things Buffalo, our Buffalo Cauliflower soup combines buttery cauliflower and pea protein with the warmth of buffalo sauce for a truly unique ready-to-eat meal or snack.
---
Our "Cheesy" Broccoli soup swaps milk and cheese for no-dairy coconut cream, turmeric, and pea protein for a ready-to-eat plant-based upgrade to this classic fan favorite.
---
Our Lentil Curry soup combines protein-packed lentils and pea protein with kale, carrot and classic curry flavors for a rich, warming ready-to-eat meal or snack.
Try them all with the Variety Pack! Each meal is loaded with flavor and packed with 10g plant-based protein.
Variety Pack Includes:
- 2x Tomato Chickpea
- 2x Buffalo Cauliflower
- 2x Cheesy Broccoli
- 2x Lentil Curry
We've been perfecting broth for almost a decade. The next logical step? Soup!
As a classically trained chef, I love meat stocks and broths. But at the end of the day, I simply love making good food using high quality ingredients that speak for themselves. I love pushing the limits of food to get the most out of it - the best flavor and the most nourishment - because anything else is a compromise.
We're always getting asked about plant-based products from folks who love the idea of bone broth, but don't eat meat. So, we decided to make our first line of soups plant-based for anyone looking for a quick and easy meal, high in protein, but free from animal products - just pure, simple goodness, prepared with integrity. This launch also highlights our versatility as a brand and our commitment as a leading innovator and tastemaker in the packaged broth and soup space.
Ryan Harvey
Chef & Founder

Your $10 off will be automatically applied at checkout
WHAT OUR EARLY-ACCESS CUSTOMERS ARE SAYING
"As a vegetarian, finding unique, tasty premade soups has always been tough. I'm sick of eating bland tomato soup from a can. Enter: Bare Bones' Plant-Based Soups. I absolutely love how innovative these flavors are. Plus, they're plant-based and packed with so much protein! My favorite is definitely the Lentil Curry - it's so flavorful and hearty!"
-Hiral K
"Cheesy Broccoli" is incredible! It has a savory, cheesy broccoli taste without the heaviness of the cheese and dairy found in a traditional packaged broccoli cheese soup. The ingredients are simple, and I feel energized eating a pouch as a quick snack when I'm busy and on-the-go!"
-Ryan