Timeless Taste
Simple Goodness

Timeless Taste

Warmth & Well-being
Simple Goodness, No Compromise
We combine premium ingredients and unique packaging with our passion to create wildly convenient products that taste better and are better for you.
Our Story



The Liquid-Gold Standard
Anything else is a compromise. Chef-crafted bone broth made with premium ingredients, traditionally slow-simmered to perfection, and packaged for maximum convenience.
ORGANIC

NON-GMO

GLUTEN FREE

SLOW-SIMMERED 12+ HOURS

COLLAGEN SOURCE

PERFECT FOR SIPPING & COOKING
Try Now



A New Kind Of Broth
Our customers asked, we answered. Get the same delicious, nutrient-dense bone broth in a great-tasting powder mix that's perfect in the kitchen and on-the-go!
PORTABLE PROTEIN

SUPER SNACK

ESSENTIAL HYDRATION

NO SUGAR CRASH

ON-THE-GO NOURISHMENT

ANYTIME ENERGY
Try Now


WHAT PEOPLE ARE SAYING

Amanda G.
"My new go-to lunch for a quick healthy meal on the run. Delicious, flavorful and filling."

Matthew L.
"I've tried a number of instant bone broths and I didn't like any of them until I discovered Bare Bones."

John A.
"I've tried to get into bone broth for a while now. Never found one that I liked. I love this one! It tastes excellent and comes in a super convenient form."

Ryan H.
"Best packaged broth in the World. Am I biased because I created these products? Absolutely."


Shop Our Best Sellers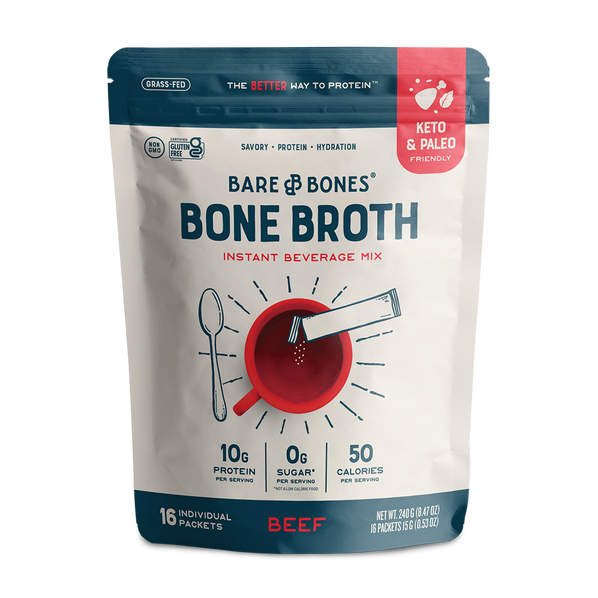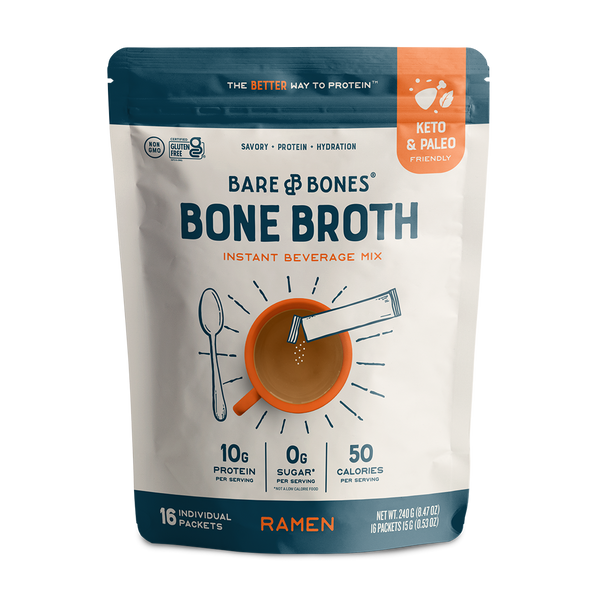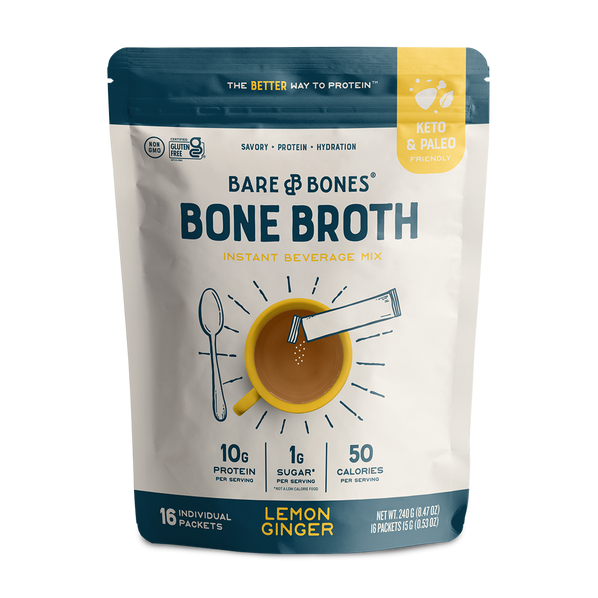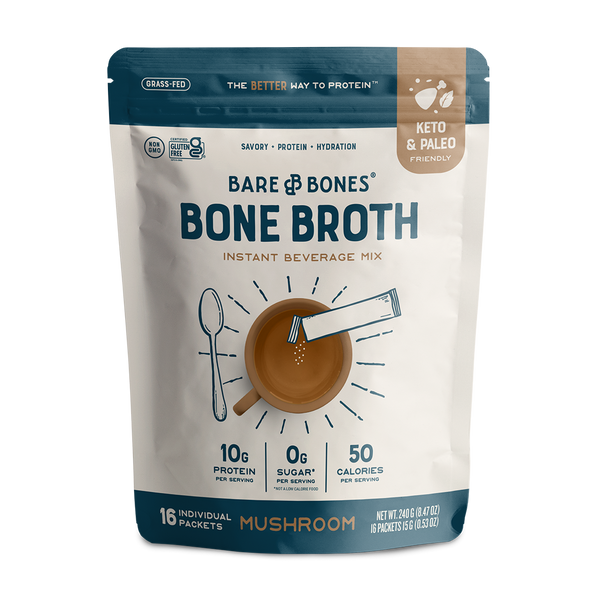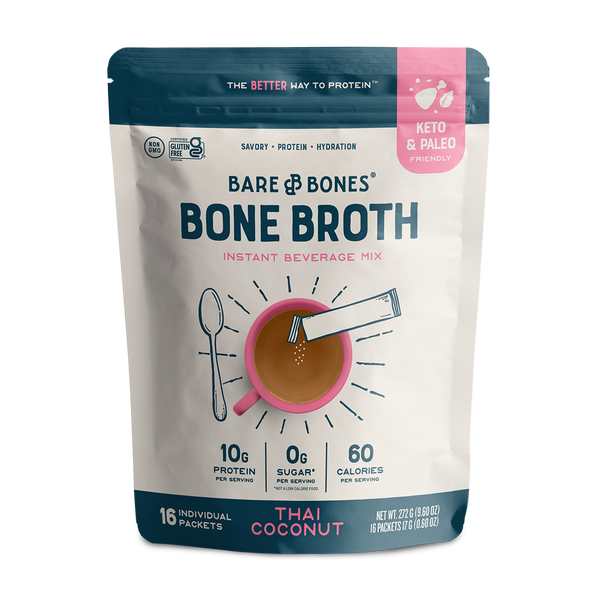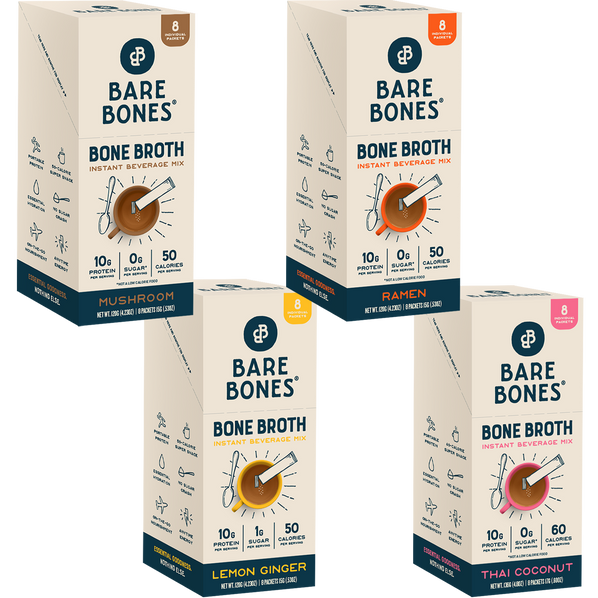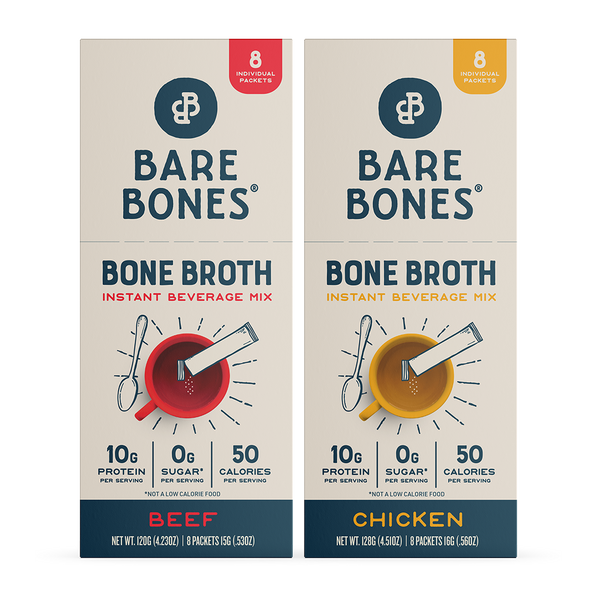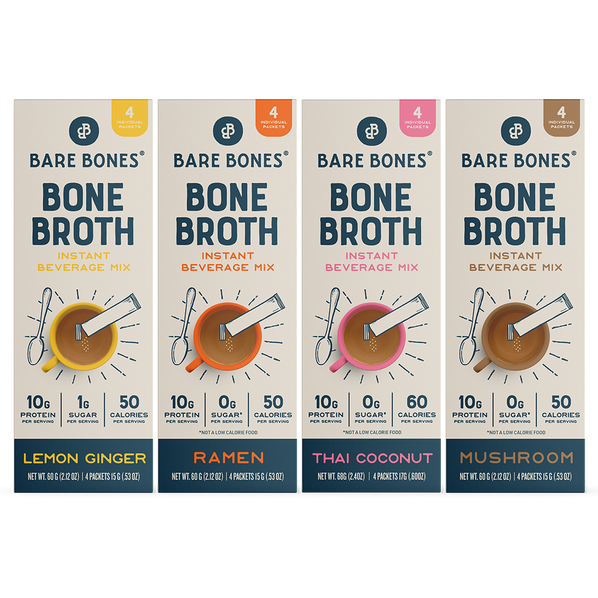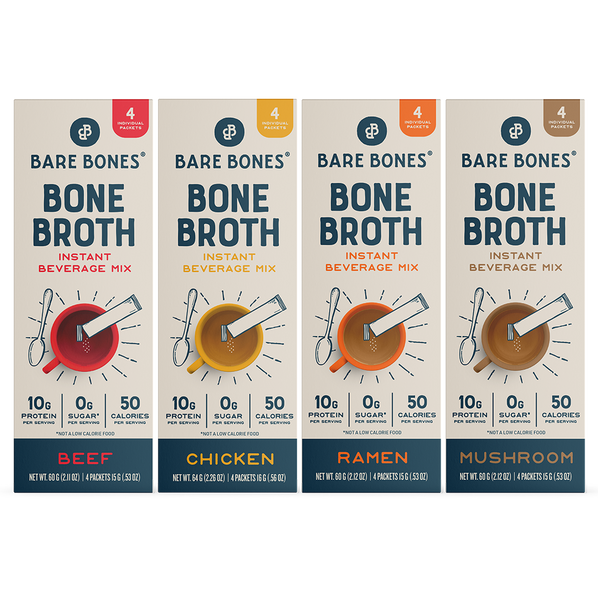 if ((window.Leaflet || {}).mapProduct != null) { window.Leaflet.mapProduct( { ...{"id":5251922919591,"title":"Instant Bone Broth","handle":"instant-bone-broth","description":"\u003cmeta charset=\"utf-8\"\u003e\u003cspan data-mce-fragment=\"1\"\u003ePowdered bone broth mixes instantly with water for the perfect sipping snack, meal base, or seasoning.\u003c\/span\u003e","published_at":"2022-01-06T14:49:44-05:00","created_at":"2020-05-28T20:04:05-04:00","vendor":"Bare Bones","type":"Instant Bone Broth","tags":["dietary-needs__Keto","format__Powder","per_word:Stick"],"price":3000,"price_min":3000,"price_max":6000,"available":true,"price_varies":true,"compare_at_price":null,"compare_at_price_min":0,"compare_at_price_max":0,"compare_at_price_varies":false,"variants":[{"id":34493902815399,"title":"Beef \/ 16 Sticks","option1":"Beef","option2":"16 Sticks","option3":null,"sku":"IB-4027","requires_shipping":true,"taxable":false,"featured_image":{"id":36564874658026,"product_id":5251922919591,"position":1,"created_at":"2022-01-28T14:03:57-05:00","updated_at":"2022-01-28T14:07:56-05:00","alt":"Beef front package flavor:Beef","width":2148,"height":2755,"src":"\/\/www.barebonesbroth.com\/cdn\/shop\/products\/BareBones_Beef_InstantBroth_Pouch_Mockup_Front.png?v=1643396876","variant_ids":[34493902815399]},"available":true,"name":"Instant Bone Broth - Beef \/ 16 Sticks","public_title":"Beef \/ 16 Sticks","options":["Beef","16 Sticks"],"price":3000,"weight":241,"compare_at_price":null,"inventory_management":"shopify","barcode":"8-50005-32402-7","featured_media":{"alt":"Beef front package flavor:Beef","id":29119243747562,"position":1,"preview_image":{"aspect_ratio":0.78,"height":2755,"width":2148,"src":"\/\/www.barebonesbroth.com\/cdn\/shop\/products\/BareBones_Beef_InstantBroth_Pouch_Mockup_Front.png?v=1643396876"}},"requires_selling_plan":false,"selling_plan_allocations":[{"price_adjustments":[{"position":1,"price":2400},{"position":2,"price":2700}],"price":2400,"compare_at_price":3000,"per_delivery_price":2400,"selling_plan_id":2924249322,"selling_plan_group_id":"4c729edfe5cf3e85b4b90e178fb53cdbfd1d0008"},{"price_adjustments":[{"position":1,"price":2400},{"position":2,"price":2700}],"price":2400,"compare_at_price":3000,"per_delivery_price":2400,"selling_plan_id":2928541930,"selling_plan_group_id":"4c729edfe5cf3e85b4b90e178fb53cdbfd1d0008"},{"price_adjustments":[{"position":1,"price":2400},{"position":2,"price":2700}],"price":2400,"compare_at_price":3000,"per_delivery_price":2400,"selling_plan_id":2928574698,"selling_plan_group_id":"4c729edfe5cf3e85b4b90e178fb53cdbfd1d0008"},{"price_adjustments":[{"position":1,"price":2400},{"position":2,"price":2700}],"price":2400,"compare_at_price":3000,"per_delivery_price":2400,"selling_plan_id":2970943722,"selling_plan_group_id":"4c729edfe5cf3e85b4b90e178fb53cdbfd1d0008"},{"price_adjustments":[{"position":1,"price":2400},{"position":2,"price":2700}],"price":2400,"compare_at_price":3000,"per_delivery_price":2400,"selling_plan_id":2970976490,"selling_plan_group_id":"4c729edfe5cf3e85b4b90e178fb53cdbfd1d0008"},{"price_adjustments":[{"position":1,"price":2400},{"position":2,"price":2700}],"price":2400,"compare_at_price":3000,"per_delivery_price":2400,"selling_plan_id":2971009258,"selling_plan_group_id":"4c729edfe5cf3e85b4b90e178fb53cdbfd1d0008"},{"price_adjustments":[{"position":1,"price":2400},{"position":2,"price":2700}],"price":2400,"compare_at_price":3000,"per_delivery_price":2400,"selling_plan_id":2971042026,"selling_plan_group_id":"4c729edfe5cf3e85b4b90e178fb53cdbfd1d0008"},{"price_adjustments":[{"position":1,"price":2400},{"position":2,"price":2700}],"price":2400,"compare_at_price":3000,"per_delivery_price":2400,"selling_plan_id":2971074794,"selling_plan_group_id":"4c729edfe5cf3e85b4b90e178fb53cdbfd1d0008"},{"price_adjustments":[{"position":1,"price":2400},{"position":2,"price":2700}],"price":2400,"compare_at_price":3000,"per_delivery_price":2400,"selling_plan_id":2971107562,"selling_plan_group_id":"4c729edfe5cf3e85b4b90e178fb53cdbfd1d0008"},{"price_adjustments":[{"position":1,"price":2400},{"position":2,"price":2700}],"price":2400,"compare_at_price":3000,"per_delivery_price":2400,"selling_plan_id":2971140330,"selling_plan_group_id":"4c729edfe5cf3e85b4b90e178fb53cdbfd1d0008"},{"price_adjustments":[{"position":1,"price":2400},{"position":2,"price":2700}],"price":2400,"compare_at_price":3000,"per_delivery_price":2400,"selling_plan_id":2971173098,"selling_plan_group_id":"4c729edfe5cf3e85b4b90e178fb53cdbfd1d0008"},{"price_adjustments":[{"position":1,"price":2400},{"position":2,"price":2700}],"price":2400,"compare_at_price":3000,"per_delivery_price":2400,"selling_plan_id":2971205866,"selling_plan_group_id":"4c729edfe5cf3e85b4b90e178fb53cdbfd1d0008"},{"price_adjustments":[{"position":1,"price":2400},{"position":2,"price":2700}],"price":2400,"compare_at_price":3000,"per_delivery_price":2400,"selling_plan_id":2971238634,"selling_plan_group_id":"4c729edfe5cf3e85b4b90e178fb53cdbfd1d0008"},{"price_adjustments":[{"position":1,"price":2400},{"position":2,"price":2700}],"price":2400,"compare_at_price":3000,"per_delivery_price":2400,"selling_plan_id":2971271402,"selling_plan_group_id":"4c729edfe5cf3e85b4b90e178fb53cdbfd1d0008"},{"price_adjustments":[{"position":1,"price":2400},{"position":2,"price":2700}],"price":2400,"compare_at_price":3000,"per_delivery_price":2400,"selling_plan_id":2971304170,"selling_plan_group_id":"4c729edfe5cf3e85b4b90e178fb53cdbfd1d0008"},{"price_adjustments":[{"position":1,"price":2400},{"position":2,"price":2700}],"price":2400,"compare_at_price":3000,"per_delivery_price":2400,"selling_plan_id":2971336938,"selling_plan_group_id":"4c729edfe5cf3e85b4b90e178fb53cdbfd1d0008"}]},{"id":34493902782631,"title":"Chicken \/ 16 Sticks","option1":"Chicken","option2":"16 Sticks","option3":null,"sku":"IB-4133","requires_shipping":true,"taxable":false,"featured_image":{"id":17204917567655,"product_id":5251922919591,"position":2,"created_at":"2020-06-01T03:45:42-04:00","updated_at":"2022-01-28T14:05:22-05:00","alt":"Chicken front package flavor:Chicken","width":2148,"height":2148,"src":"\/\/www.barebonesbroth.com\/cdn\/shop\/products\/BareBones_Chicken_InstantBroth_Pouch_Mockup_Front_copy_b63c936b-11e8-4ace-9539-cd25c630396f.png?v=1643396722","variant_ids":[34493902782631]},"available":true,"name":"Instant Bone Broth - Chicken \/ 16 Sticks","public_title":"Chicken \/ 16 Sticks","options":["Chicken","16 Sticks"],"price":3000,"weight":254,"compare_at_price":null,"inventory_management":"shopify","barcode":"8-50005-32413-3","featured_media":{"alt":"Chicken front package flavor:Chicken","id":9378861023399,"position":2,"preview_image":{"aspect_ratio":1.0,"height":2148,"width":2148,"src":"\/\/www.barebonesbroth.com\/cdn\/shop\/products\/BareBones_Chicken_InstantBroth_Pouch_Mockup_Front_copy_b63c936b-11e8-4ace-9539-cd25c630396f.png?v=1643396722"}},"requires_selling_plan":false,"selling_plan_allocations":[{"price_adjustments":[{"position":1,"price":2400},{"position":2,"price":2700}],"price":2400,"compare_at_price":3000,"per_delivery_price":2400,"selling_plan_id":2924249322,"selling_plan_group_id":"4c729edfe5cf3e85b4b90e178fb53cdbfd1d0008"},{"price_adjustments":[{"position":1,"price":2400},{"position":2,"price":2700}],"price":2400,"compare_at_price":3000,"per_delivery_price":2400,"selling_plan_id":2928541930,"selling_plan_group_id":"4c729edfe5cf3e85b4b90e178fb53cdbfd1d0008"},{"price_adjustments":[{"position":1,"price":2400},{"position":2,"price":2700}],"price":2400,"compare_at_price":3000,"per_delivery_price":2400,"selling_plan_id":2928574698,"selling_plan_group_id":"4c729edfe5cf3e85b4b90e178fb53cdbfd1d0008"},{"price_adjustments":[{"position":1,"price":2400},{"position":2,"price":2700}],"price":2400,"compare_at_price":3000,"per_delivery_price":2400,"selling_plan_id":2970943722,"selling_plan_group_id":"4c729edfe5cf3e85b4b90e178fb53cdbfd1d0008"},{"price_adjustments":[{"position":1,"price":2400},{"position":2,"price":2700}],"price":2400,"compare_at_price":3000,"per_delivery_price":2400,"selling_plan_id":2970976490,"selling_plan_group_id":"4c729edfe5cf3e85b4b90e178fb53cdbfd1d0008"},{"price_adjustments":[{"position":1,"price":2400},{"position":2,"price":2700}],"price":2400,"compare_at_price":3000,"per_delivery_price":2400,"selling_plan_id":2971009258,"selling_plan_group_id":"4c729edfe5cf3e85b4b90e178fb53cdbfd1d0008"},{"price_adjustments":[{"position":1,"price":2400},{"position":2,"price":2700}],"price":2400,"compare_at_price":3000,"per_delivery_price":2400,"selling_plan_id":2971042026,"selling_plan_group_id":"4c729edfe5cf3e85b4b90e178fb53cdbfd1d0008"},{"price_adjustments":[{"position":1,"price":2400},{"position":2,"price":2700}],"price":2400,"compare_at_price":3000,"per_delivery_price":2400,"selling_plan_id":2971074794,"selling_plan_group_id":"4c729edfe5cf3e85b4b90e178fb53cdbfd1d0008"},{"price_adjustments":[{"position":1,"price":2400},{"position":2,"price":2700}],"price":2400,"compare_at_price":3000,"per_delivery_price":2400,"selling_plan_id":2971107562,"selling_plan_group_id":"4c729edfe5cf3e85b4b90e178fb53cdbfd1d0008"},{"price_adjustments":[{"position":1,"price":2400},{"position":2,"price":2700}],"price":2400,"compare_at_price":3000,"per_delivery_price":2400,"selling_plan_id":2971140330,"selling_plan_group_id":"4c729edfe5cf3e85b4b90e178fb53cdbfd1d0008"},{"price_adjustments":[{"position":1,"price":2400},{"position":2,"price":2700}],"price":2400,"compare_at_price":3000,"per_delivery_price":2400,"selling_plan_id":2971173098,"selling_plan_group_id":"4c729edfe5cf3e85b4b90e178fb53cdbfd1d0008"},{"price_adjustments":[{"position":1,"price":2400},{"position":2,"price":2700}],"price":2400,"compare_at_price":3000,"per_delivery_price":2400,"selling_plan_id":2971205866,"selling_plan_group_id":"4c729edfe5cf3e85b4b90e178fb53cdbfd1d0008"},{"price_adjustments":[{"position":1,"price":2400},{"position":2,"price":2700}],"price":2400,"compare_at_price":3000,"per_delivery_price":2400,"selling_plan_id":2971238634,"selling_plan_group_id":"4c729edfe5cf3e85b4b90e178fb53cdbfd1d0008"},{"price_adjustments":[{"position":1,"price":2400},{"position":2,"price":2700}],"price":2400,"compare_at_price":3000,"per_delivery_price":2400,"selling_plan_id":2971271402,"selling_plan_group_id":"4c729edfe5cf3e85b4b90e178fb53cdbfd1d0008"},{"price_adjustments":[{"position":1,"price":2400},{"position":2,"price":2700}],"price":2400,"compare_at_price":3000,"per_delivery_price":2400,"selling_plan_id":2971304170,"selling_plan_group_id":"4c729edfe5cf3e85b4b90e178fb53cdbfd1d0008"},{"price_adjustments":[{"position":1,"price":2400},{"position":2,"price":2700}],"price":2400,"compare_at_price":3000,"per_delivery_price":2400,"selling_plan_id":2971336938,"selling_plan_group_id":"4c729edfe5cf3e85b4b90e178fb53cdbfd1d0008"}]},{"id":41585647583399,"title":"Ramen \/ 16 Sticks","option1":"Ramen","option2":"16 Sticks","option3":null,"sku":"IB-4348-2","requires_shipping":true,"taxable":false,"featured_image":{"id":31525850251431,"product_id":5251922919591,"position":4,"created_at":"2021-10-19T09:55:23-04:00","updated_at":"2022-01-28T14:05:22-05:00","alt":"flavor:Ramen","width":2048,"height":2048,"src":"\/\/www.barebonesbroth.com\/cdn\/shop\/products\/Ramen_8x2_f5dd1ddf-2fca-4b6e-aef9-a9ad3ea53fa8.png?v=1643396722","variant_ids":[41585647583399]},"available":true,"name":"Instant Bone Broth - Ramen \/ 16 Sticks","public_title":"Ramen \/ 16 Sticks","options":["Ramen","16 Sticks"],"price":3000,"weight":240,"compare_at_price":null,"inventory_management":"shopify","barcode":"","featured_media":{"alt":"flavor:Ramen","id":23990756049063,"position":4,"preview_image":{"aspect_ratio":1.0,"height":2048,"width":2048,"src":"\/\/www.barebonesbroth.com\/cdn\/shop\/products\/Ramen_8x2_f5dd1ddf-2fca-4b6e-aef9-a9ad3ea53fa8.png?v=1643396722"}},"requires_selling_plan":false,"selling_plan_allocations":[{"price_adjustments":[{"position":1,"price":2400},{"position":2,"price":2700}],"price":2400,"compare_at_price":3000,"per_delivery_price":2400,"selling_plan_id":2924249322,"selling_plan_group_id":"4c729edfe5cf3e85b4b90e178fb53cdbfd1d0008"},{"price_adjustments":[{"position":1,"price":2400},{"position":2,"price":2700}],"price":2400,"compare_at_price":3000,"per_delivery_price":2400,"selling_plan_id":2928541930,"selling_plan_group_id":"4c729edfe5cf3e85b4b90e178fb53cdbfd1d0008"},{"price_adjustments":[{"position":1,"price":2400},{"position":2,"price":2700}],"price":2400,"compare_at_price":3000,"per_delivery_price":2400,"selling_plan_id":2928574698,"selling_plan_group_id":"4c729edfe5cf3e85b4b90e178fb53cdbfd1d0008"},{"price_adjustments":[{"position":1,"price":2400},{"position":2,"price":2700}],"price":2400,"compare_at_price":3000,"per_delivery_price":2400,"selling_plan_id":2970943722,"selling_plan_group_id":"4c729edfe5cf3e85b4b90e178fb53cdbfd1d0008"},{"price_adjustments":[{"position":1,"price":2400},{"position":2,"price":2700}],"price":2400,"compare_at_price":3000,"per_delivery_price":2400,"selling_plan_id":2970976490,"selling_plan_group_id":"4c729edfe5cf3e85b4b90e178fb53cdbfd1d0008"},{"price_adjustments":[{"position":1,"price":2400},{"position":2,"price":2700}],"price":2400,"compare_at_price":3000,"per_delivery_price":2400,"selling_plan_id":2971009258,"selling_plan_group_id":"4c729edfe5cf3e85b4b90e178fb53cdbfd1d0008"},{"price_adjustments":[{"position":1,"price":2400},{"position":2,"price":2700}],"price":2400,"compare_at_price":3000,"per_delivery_price":2400,"selling_plan_id":2971042026,"selling_plan_group_id":"4c729edfe5cf3e85b4b90e178fb53cdbfd1d0008"},{"price_adjustments":[{"position":1,"price":2400},{"position":2,"price":2700}],"price":2400,"compare_at_price":3000,"per_delivery_price":2400,"selling_plan_id":2971074794,"selling_plan_group_id":"4c729edfe5cf3e85b4b90e178fb53cdbfd1d0008"},{"price_adjustments":[{"position":1,"price":2400},{"position":2,"price":2700}],"price":2400,"compare_at_price":3000,"per_delivery_price":2400,"selling_plan_id":2971107562,"selling_plan_group_id":"4c729edfe5cf3e85b4b90e178fb53cdbfd1d0008"},{"price_adjustments":[{"position":1,"price":2400},{"position":2,"price":2700}],"price":2400,"compare_at_price":3000,"per_delivery_price":2400,"selling_plan_id":2971140330,"selling_plan_group_id":"4c729edfe5cf3e85b4b90e178fb53cdbfd1d0008"},{"price_adjustments":[{"position":1,"price":2400},{"position":2,"price":2700}],"price":2400,"compare_at_price":3000,"per_delivery_price":2400,"selling_plan_id":2971173098,"selling_plan_group_id":"4c729edfe5cf3e85b4b90e178fb53cdbfd1d0008"},{"price_adjustments":[{"position":1,"price":2400},{"position":2,"price":2700}],"price":2400,"compare_at_price":3000,"per_delivery_price":2400,"selling_plan_id":2971205866,"selling_plan_group_id":"4c729edfe5cf3e85b4b90e178fb53cdbfd1d0008"},{"price_adjustments":[{"position":1,"price":2400},{"position":2,"price":2700}],"price":2400,"compare_at_price":3000,"per_delivery_price":2400,"selling_plan_id":2971238634,"selling_plan_group_id":"4c729edfe5cf3e85b4b90e178fb53cdbfd1d0008"},{"price_adjustments":[{"position":1,"price":2400},{"position":2,"price":2700}],"price":2400,"compare_at_price":3000,"per_delivery_price":2400,"selling_plan_id":2971271402,"selling_plan_group_id":"4c729edfe5cf3e85b4b90e178fb53cdbfd1d0008"},{"price_adjustments":[{"position":1,"price":2400},{"position":2,"price":2700}],"price":2400,"compare_at_price":3000,"per_delivery_price":2400,"selling_plan_id":2971304170,"selling_plan_group_id":"4c729edfe5cf3e85b4b90e178fb53cdbfd1d0008"},{"price_adjustments":[{"position":1,"price":2400},{"position":2,"price":2700}],"price":2400,"compare_at_price":3000,"per_delivery_price":2400,"selling_plan_id":2971336938,"selling_plan_group_id":"4c729edfe5cf3e85b4b90e178fb53cdbfd1d0008"}]},{"id":41585654562983,"title":"Lemon Ginger \/ 16 Sticks","option1":"Lemon Ginger","option2":"16 Sticks","option3":null,"sku":"IB-4362-2","requires_shipping":true,"taxable":false,"featured_image":{"id":31525883117735,"product_id":5251922919591,"position":5,"created_at":"2021-10-19T09:57:48-04:00","updated_at":"2022-01-28T14:05:22-05:00","alt":"flavor:LemonGinger","width":2048,"height":2048,"src":"\/\/www.barebonesbroth.com\/cdn\/shop\/products\/Lemon_Ginger_8x2_c1fc1bad-cbf1-46fa-aa1e-f53a21b50803.png?v=1643396722","variant_ids":[41585654562983]},"available":true,"name":"Instant Bone Broth - Lemon Ginger \/ 16 Sticks","public_title":"Lemon Ginger \/ 16 Sticks","options":["Lemon Ginger","16 Sticks"],"price":3000,"weight":245,"compare_at_price":null,"inventory_management":"shopify","barcode":"","featured_media":{"alt":"flavor:LemonGinger","id":23990789275815,"position":5,"preview_image":{"aspect_ratio":1.0,"height":2048,"width":2048,"src":"\/\/www.barebonesbroth.com\/cdn\/shop\/products\/Lemon_Ginger_8x2_c1fc1bad-cbf1-46fa-aa1e-f53a21b50803.png?v=1643396722"}},"requires_selling_plan":false,"selling_plan_allocations":[{"price_adjustments":[{"position":1,"price":2400},{"position":2,"price":2700}],"price":2400,"compare_at_price":3000,"per_delivery_price":2400,"selling_plan_id":2924249322,"selling_plan_group_id":"4c729edfe5cf3e85b4b90e178fb53cdbfd1d0008"},{"price_adjustments":[{"position":1,"price":2400},{"position":2,"price":2700}],"price":2400,"compare_at_price":3000,"per_delivery_price":2400,"selling_plan_id":2928541930,"selling_plan_group_id":"4c729edfe5cf3e85b4b90e178fb53cdbfd1d0008"},{"price_adjustments":[{"position":1,"price":2400},{"position":2,"price":2700}],"price":2400,"compare_at_price":3000,"per_delivery_price":2400,"selling_plan_id":2928574698,"selling_plan_group_id":"4c729edfe5cf3e85b4b90e178fb53cdbfd1d0008"},{"price_adjustments":[{"position":1,"price":2400},{"position":2,"price":2700}],"price":2400,"compare_at_price":3000,"per_delivery_price":2400,"selling_plan_id":2970943722,"selling_plan_group_id":"4c729edfe5cf3e85b4b90e178fb53cdbfd1d0008"},{"price_adjustments":[{"position":1,"price":2400},{"position":2,"price":2700}],"price":2400,"compare_at_price":3000,"per_delivery_price":2400,"selling_plan_id":2970976490,"selling_plan_group_id":"4c729edfe5cf3e85b4b90e178fb53cdbfd1d0008"},{"price_adjustments":[{"position":1,"price":2400},{"position":2,"price":2700}],"price":2400,"compare_at_price":3000,"per_delivery_price":2400,"selling_plan_id":2971009258,"selling_plan_group_id":"4c729edfe5cf3e85b4b90e178fb53cdbfd1d0008"},{"price_adjustments":[{"position":1,"price":2400},{"position":2,"price":2700}],"price":2400,"compare_at_price":3000,"per_delivery_price":2400,"selling_plan_id":2971042026,"selling_plan_group_id":"4c729edfe5cf3e85b4b90e178fb53cdbfd1d0008"},{"price_adjustments":[{"position":1,"price":2400},{"position":2,"price":2700}],"price":2400,"compare_at_price":3000,"per_delivery_price":2400,"selling_plan_id":2971074794,"selling_plan_group_id":"4c729edfe5cf3e85b4b90e178fb53cdbfd1d0008"},{"price_adjustments":[{"position":1,"price":2400},{"position":2,"price":2700}],"price":2400,"compare_at_price":3000,"per_delivery_price":2400,"selling_plan_id":2971107562,"selling_plan_group_id":"4c729edfe5cf3e85b4b90e178fb53cdbfd1d0008"},{"price_adjustments":[{"position":1,"price":2400},{"position":2,"price":2700}],"price":2400,"compare_at_price":3000,"per_delivery_price":2400,"selling_plan_id":2971140330,"selling_plan_group_id":"4c729edfe5cf3e85b4b90e178fb53cdbfd1d0008"},{"price_adjustments":[{"position":1,"price":2400},{"position":2,"price":2700}],"price":2400,"compare_at_price":3000,"per_delivery_price":2400,"selling_plan_id":2971173098,"selling_plan_group_id":"4c729edfe5cf3e85b4b90e178fb53cdbfd1d0008"},{"price_adjustments":[{"position":1,"price":2400},{"position":2,"price":2700}],"price":2400,"compare_at_price":3000,"per_delivery_price":2400,"selling_plan_id":2971205866,"selling_plan_group_id":"4c729edfe5cf3e85b4b90e178fb53cdbfd1d0008"},{"price_adjustments":[{"position":1,"price":2400},{"position":2,"price":2700}],"price":2400,"compare_at_price":3000,"per_delivery_price":2400,"selling_plan_id":2971238634,"selling_plan_group_id":"4c729edfe5cf3e85b4b90e178fb53cdbfd1d0008"},{"price_adjustments":[{"position":1,"price":2400},{"position":2,"price":2700}],"price":2400,"compare_at_price":3000,"per_delivery_price":2400,"selling_plan_id":2971271402,"selling_plan_group_id":"4c729edfe5cf3e85b4b90e178fb53cdbfd1d0008"},{"price_adjustments":[{"position":1,"price":2400},{"position":2,"price":2700}],"price":2400,"compare_at_price":3000,"per_delivery_price":2400,"selling_plan_id":2971304170,"selling_plan_group_id":"4c729edfe5cf3e85b4b90e178fb53cdbfd1d0008"},{"price_adjustments":[{"position":1,"price":2400},{"position":2,"price":2700}],"price":2400,"compare_at_price":3000,"per_delivery_price":2400,"selling_plan_id":2971336938,"selling_plan_group_id":"4c729edfe5cf3e85b4b90e178fb53cdbfd1d0008"}]},{"id":41585662984359,"title":"Mushroom \/ 16 Sticks","option1":"Mushroom","option2":"16 Sticks","option3":null,"sku":"IB-4331-2","requires_shipping":true,"taxable":false,"featured_image":{"id":31525899927719,"product_id":5251922919591,"position":6,"created_at":"2021-10-19T09:59:23-04:00","updated_at":"2022-01-28T14:05:22-05:00","alt":"flavor:Mushroom","width":2048,"height":2048,"src":"\/\/www.barebonesbroth.com\/cdn\/shop\/products\/Mushroom_8x2_da93c1b2-f5bf-46c8-8060-45eda672a868.png?v=1643396722","variant_ids":[41585662984359]},"available":true,"name":"Instant Bone Broth - Mushroom \/ 16 Sticks","public_title":"Mushroom \/ 16 Sticks","options":["Mushroom","16 Sticks"],"price":3000,"weight":270,"compare_at_price":null,"inventory_management":"shopify","barcode":"","featured_media":{"alt":"flavor:Mushroom","id":23990806085799,"position":6,"preview_image":{"aspect_ratio":1.0,"height":2048,"width":2048,"src":"\/\/www.barebonesbroth.com\/cdn\/shop\/products\/Mushroom_8x2_da93c1b2-f5bf-46c8-8060-45eda672a868.png?v=1643396722"}},"requires_selling_plan":false,"selling_plan_allocations":[{"price_adjustments":[{"position":1,"price":2400},{"position":2,"price":2700}],"price":2400,"compare_at_price":3000,"per_delivery_price":2400,"selling_plan_id":2924249322,"selling_plan_group_id":"4c729edfe5cf3e85b4b90e178fb53cdbfd1d0008"},{"price_adjustments":[{"position":1,"price":2400},{"position":2,"price":2700}],"price":2400,"compare_at_price":3000,"per_delivery_price":2400,"selling_plan_id":2928541930,"selling_plan_group_id":"4c729edfe5cf3e85b4b90e178fb53cdbfd1d0008"},{"price_adjustments":[{"position":1,"price":2400},{"position":2,"price":2700}],"price":2400,"compare_at_price":3000,"per_delivery_price":2400,"selling_plan_id":2928574698,"selling_plan_group_id":"4c729edfe5cf3e85b4b90e178fb53cdbfd1d0008"},{"price_adjustments":[{"position":1,"price":2400},{"position":2,"price":2700}],"price":2400,"compare_at_price":3000,"per_delivery_price":2400,"selling_plan_id":2970943722,"selling_plan_group_id":"4c729edfe5cf3e85b4b90e178fb53cdbfd1d0008"},{"price_adjustments":[{"position":1,"price":2400},{"position":2,"price":2700}],"price":2400,"compare_at_price":3000,"per_delivery_price":2400,"selling_plan_id":2970976490,"selling_plan_group_id":"4c729edfe5cf3e85b4b90e178fb53cdbfd1d0008"},{"price_adjustments":[{"position":1,"price":2400},{"position":2,"price":2700}],"price":2400,"compare_at_price":3000,"per_delivery_price":2400,"selling_plan_id":2971009258,"selling_plan_group_id":"4c729edfe5cf3e85b4b90e178fb53cdbfd1d0008"},{"price_adjustments":[{"position":1,"price":2400},{"position":2,"price":2700}],"price":2400,"compare_at_price":3000,"per_delivery_price":2400,"selling_plan_id":2971042026,"selling_plan_group_id":"4c729edfe5cf3e85b4b90e178fb53cdbfd1d0008"},{"price_adjustments":[{"position":1,"price":2400},{"position":2,"price":2700}],"price":2400,"compare_at_price":3000,"per_delivery_price":2400,"selling_plan_id":2971074794,"selling_plan_group_id":"4c729edfe5cf3e85b4b90e178fb53cdbfd1d0008"},{"price_adjustments":[{"position":1,"price":2400},{"position":2,"price":2700}],"price":2400,"compare_at_price":3000,"per_delivery_price":2400,"selling_plan_id":2971107562,"selling_plan_group_id":"4c729edfe5cf3e85b4b90e178fb53cdbfd1d0008"},{"price_adjustments":[{"position":1,"price":2400},{"position":2,"price":2700}],"price":2400,"compare_at_price":3000,"per_delivery_price":2400,"selling_plan_id":2971140330,"selling_plan_group_id":"4c729edfe5cf3e85b4b90e178fb53cdbfd1d0008"},{"price_adjustments":[{"position":1,"price":2400},{"position":2,"price":2700}],"price":2400,"compare_at_price":3000,"per_delivery_price":2400,"selling_plan_id":2971173098,"selling_plan_group_id":"4c729edfe5cf3e85b4b90e178fb53cdbfd1d0008"},{"price_adjustments":[{"position":1,"price":2400},{"position":2,"price":2700}],"price":2400,"compare_at_price":3000,"per_delivery_price":2400,"selling_plan_id":2971205866,"selling_plan_group_id":"4c729edfe5cf3e85b4b90e178fb53cdbfd1d0008"},{"price_adjustments":[{"position":1,"price":2400},{"position":2,"price":2700}],"price":2400,"compare_at_price":3000,"per_delivery_price":2400,"selling_plan_id":2971238634,"selling_plan_group_id":"4c729edfe5cf3e85b4b90e178fb53cdbfd1d0008"},{"price_adjustments":[{"position":1,"price":2400},{"position":2,"price":2700}],"price":2400,"compare_at_price":3000,"per_delivery_price":2400,"selling_plan_id":2971271402,"selling_plan_group_id":"4c729edfe5cf3e85b4b90e178fb53cdbfd1d0008"},{"price_adjustments":[{"position":1,"price":2400},{"position":2,"price":2700}],"price":2400,"compare_at_price":3000,"per_delivery_price":2400,"selling_plan_id":2971304170,"selling_plan_group_id":"4c729edfe5cf3e85b4b90e178fb53cdbfd1d0008"},{"price_adjustments":[{"position":1,"price":2400},{"position":2,"price":2700}],"price":2400,"compare_at_price":3000,"per_delivery_price":2400,"selling_plan_id":2971336938,"selling_plan_group_id":"4c729edfe5cf3e85b4b90e178fb53cdbfd1d0008"}]},{"id":41585679237287,"title":"Thai Coconut \/ 16 Sticks","option1":"Thai Coconut","option2":"16 Sticks","option3":null,"sku":"IB-4355-2","requires_shipping":true,"taxable":false,"featured_image":{"id":31525930598567,"product_id":5251922919591,"position":7,"created_at":"2021-10-19T10:02:00-04:00","updated_at":"2022-01-28T14:05:22-05:00","alt":"flavor:ThaiCoconut","width":2048,"height":2048,"src":"\/\/www.barebonesbroth.com\/cdn\/shop\/products\/Thai_Coconut_8x2_55bb91a4-c4fc-436c-9a7b-813b3d06e4d1.png?v=1643396722","variant_ids":[41585679237287]},"available":true,"name":"Instant Bone Broth - Thai Coconut \/ 16 Sticks","public_title":"Thai Coconut \/ 16 Sticks","options":["Thai Coconut","16 Sticks"],"price":3000,"weight":272,"compare_at_price":null,"inventory_management":"shopify","barcode":"","featured_media":{"alt":"flavor:ThaiCoconut","id":23990837084327,"position":7,"preview_image":{"aspect_ratio":1.0,"height":2048,"width":2048,"src":"\/\/www.barebonesbroth.com\/cdn\/shop\/products\/Thai_Coconut_8x2_55bb91a4-c4fc-436c-9a7b-813b3d06e4d1.png?v=1643396722"}},"requires_selling_plan":false,"selling_plan_allocations":[{"price_adjustments":[{"position":1,"price":2400},{"position":2,"price":2700}],"price":2400,"compare_at_price":3000,"per_delivery_price":2400,"selling_plan_id":2924249322,"selling_plan_group_id":"4c729edfe5cf3e85b4b90e178fb53cdbfd1d0008"},{"price_adjustments":[{"position":1,"price":2400},{"position":2,"price":2700}],"price":2400,"compare_at_price":3000,"per_delivery_price":2400,"selling_plan_id":2928541930,"selling_plan_group_id":"4c729edfe5cf3e85b4b90e178fb53cdbfd1d0008"},{"price_adjustments":[{"position":1,"price":2400},{"position":2,"price":2700}],"price":2400,"compare_at_price":3000,"per_delivery_price":2400,"selling_plan_id":2928574698,"selling_plan_group_id":"4c729edfe5cf3e85b4b90e178fb53cdbfd1d0008"},{"price_adjustments":[{"position":1,"price":2400},{"position":2,"price":2700}],"price":2400,"compare_at_price":3000,"per_delivery_price":2400,"selling_plan_id":2970943722,"selling_plan_group_id":"4c729edfe5cf3e85b4b90e178fb53cdbfd1d0008"},{"price_adjustments":[{"position":1,"price":2400},{"position":2,"price":2700}],"price":2400,"compare_at_price":3000,"per_delivery_price":2400,"selling_plan_id":2970976490,"selling_plan_group_id":"4c729edfe5cf3e85b4b90e178fb53cdbfd1d0008"},{"price_adjustments":[{"position":1,"price":2400},{"position":2,"price":2700}],"price":2400,"compare_at_price":3000,"per_delivery_price":2400,"selling_plan_id":2971009258,"selling_plan_group_id":"4c729edfe5cf3e85b4b90e178fb53cdbfd1d0008"},{"price_adjustments":[{"position":1,"price":2400},{"position":2,"price":2700}],"price":2400,"compare_at_price":3000,"per_delivery_price":2400,"selling_plan_id":2971042026,"selling_plan_group_id":"4c729edfe5cf3e85b4b90e178fb53cdbfd1d0008"},{"price_adjustments":[{"position":1,"price":2400},{"position":2,"price":2700}],"price":2400,"compare_at_price":3000,"per_delivery_price":2400,"selling_plan_id":2971074794,"selling_plan_group_id":"4c729edfe5cf3e85b4b90e178fb53cdbfd1d0008"},{"price_adjustments":[{"position":1,"price":2400},{"position":2,"price":2700}],"price":2400,"compare_at_price":3000,"per_delivery_price":2400,"selling_plan_id":2971107562,"selling_plan_group_id":"4c729edfe5cf3e85b4b90e178fb53cdbfd1d0008"},{"price_adjustments":[{"position":1,"price":2400},{"position":2,"price":2700}],"price":2400,"compare_at_price":3000,"per_delivery_price":2400,"selling_plan_id":2971140330,"selling_plan_group_id":"4c729edfe5cf3e85b4b90e178fb53cdbfd1d0008"},{"price_adjustments":[{"position":1,"price":2400},{"position":2,"price":2700}],"price":2400,"compare_at_price":3000,"per_delivery_price":2400,"selling_plan_id":2971173098,"selling_plan_group_id":"4c729edfe5cf3e85b4b90e178fb53cdbfd1d0008"},{"price_adjustments":[{"position":1,"price":2400},{"position":2,"price":2700}],"price":2400,"compare_at_price":3000,"per_delivery_price":2400,"selling_plan_id":2971205866,"selling_plan_group_id":"4c729edfe5cf3e85b4b90e178fb53cdbfd1d0008"},{"price_adjustments":[{"position":1,"price":2400},{"position":2,"price":2700}],"price":2400,"compare_at_price":3000,"per_delivery_price":2400,"selling_plan_id":2971238634,"selling_plan_group_id":"4c729edfe5cf3e85b4b90e178fb53cdbfd1d0008"},{"price_adjustments":[{"position":1,"price":2400},{"position":2,"price":2700}],"price":2400,"compare_at_price":3000,"per_delivery_price":2400,"selling_plan_id":2971271402,"selling_plan_group_id":"4c729edfe5cf3e85b4b90e178fb53cdbfd1d0008"},{"price_adjustments":[{"position":1,"price":2400},{"position":2,"price":2700}],"price":2400,"compare_at_price":3000,"per_delivery_price":2400,"selling_plan_id":2971304170,"selling_plan_group_id":"4c729edfe5cf3e85b4b90e178fb53cdbfd1d0008"},{"price_adjustments":[{"position":1,"price":2400},{"position":2,"price":2700}],"price":2400,"compare_at_price":3000,"per_delivery_price":2400,"selling_plan_id":2971336938,"selling_plan_group_id":"4c729edfe5cf3e85b4b90e178fb53cdbfd1d0008"}]},{"id":41585486889127,"title":"Variety \/ 32 Sticks","option1":"Variety","option2":"32 Sticks","option3":null,"sku":"VP-0010","requires_shipping":true,"taxable":false,"featured_image":{"id":31525805785255,"product_id":5251922919591,"position":3,"created_at":"2021-10-19T09:52:06-04:00","updated_at":"2022-01-28T14:05:22-05:00","alt":"flavor:Variety","width":2048,"height":2048,"src":"\/\/www.barebonesbroth.com\/cdn\/shop\/products\/Innovation_Variety_Pack.png?v=1643396722","variant_ids":[41585486889127]},"available":true,"name":"Instant Bone Broth - Variety \/ 32 Sticks","public_title":"Variety \/ 32 Sticks","options":["Variety","32 Sticks"],"price":6000,"weight":499,"compare_at_price":null,"inventory_management":"shopify","barcode":"","featured_media":{"alt":"flavor:Variety","id":23990711287975,"position":3,"preview_image":{"aspect_ratio":1.0,"height":2048,"width":2048,"src":"\/\/www.barebonesbroth.com\/cdn\/shop\/products\/Innovation_Variety_Pack.png?v=1643396722"}},"requires_selling_plan":false,"selling_plan_allocations":[{"price_adjustments":[{"position":1,"price":4800},{"position":2,"price":5400}],"price":4800,"compare_at_price":6000,"per_delivery_price":4800,"selling_plan_id":2924249322,"selling_plan_group_id":"4c729edfe5cf3e85b4b90e178fb53cdbfd1d0008"},{"price_adjustments":[{"position":1,"price":4800},{"position":2,"price":5400}],"price":4800,"compare_at_price":6000,"per_delivery_price":4800,"selling_plan_id":2928541930,"selling_plan_group_id":"4c729edfe5cf3e85b4b90e178fb53cdbfd1d0008"},{"price_adjustments":[{"position":1,"price":4800},{"position":2,"price":5400}],"price":4800,"compare_at_price":6000,"per_delivery_price":4800,"selling_plan_id":2928574698,"selling_plan_group_id":"4c729edfe5cf3e85b4b90e178fb53cdbfd1d0008"},{"price_adjustments":[{"position":1,"price":4800},{"position":2,"price":5400}],"price":4800,"compare_at_price":6000,"per_delivery_price":4800,"selling_plan_id":2970943722,"selling_plan_group_id":"4c729edfe5cf3e85b4b90e178fb53cdbfd1d0008"},{"price_adjustments":[{"position":1,"price":4800},{"position":2,"price":5400}],"price":4800,"compare_at_price":6000,"per_delivery_price":4800,"selling_plan_id":2970976490,"selling_plan_group_id":"4c729edfe5cf3e85b4b90e178fb53cdbfd1d0008"},{"price_adjustments":[{"position":1,"price":4800},{"position":2,"price":5400}],"price":4800,"compare_at_price":6000,"per_delivery_price":4800,"selling_plan_id":2971009258,"selling_plan_group_id":"4c729edfe5cf3e85b4b90e178fb53cdbfd1d0008"},{"price_adjustments":[{"position":1,"price":4800},{"position":2,"price":5400}],"price":4800,"compare_at_price":6000,"per_delivery_price":4800,"selling_plan_id":2971042026,"selling_plan_group_id":"4c729edfe5cf3e85b4b90e178fb53cdbfd1d0008"},{"price_adjustments":[{"position":1,"price":4800},{"position":2,"price":5400}],"price":4800,"compare_at_price":6000,"per_delivery_price":4800,"selling_plan_id":2971074794,"selling_plan_group_id":"4c729edfe5cf3e85b4b90e178fb53cdbfd1d0008"},{"price_adjustments":[{"position":1,"price":4800},{"position":2,"price":5400}],"price":4800,"compare_at_price":6000,"per_delivery_price":4800,"selling_plan_id":2971107562,"selling_plan_group_id":"4c729edfe5cf3e85b4b90e178fb53cdbfd1d0008"},{"price_adjustments":[{"position":1,"price":4800},{"position":2,"price":5400}],"price":4800,"compare_at_price":6000,"per_delivery_price":4800,"selling_plan_id":2971140330,"selling_plan_group_id":"4c729edfe5cf3e85b4b90e178fb53cdbfd1d0008"},{"price_adjustments":[{"position":1,"price":4800},{"position":2,"price":5400}],"price":4800,"compare_at_price":6000,"per_delivery_price":4800,"selling_plan_id":2971173098,"selling_plan_group_id":"4c729edfe5cf3e85b4b90e178fb53cdbfd1d0008"},{"price_adjustments":[{"position":1,"price":4800},{"position":2,"price":5400}],"price":4800,"compare_at_price":6000,"per_delivery_price":4800,"selling_plan_id":2971205866,"selling_plan_group_id":"4c729edfe5cf3e85b4b90e178fb53cdbfd1d0008"},{"price_adjustments":[{"position":1,"price":4800},{"position":2,"price":5400}],"price":4800,"compare_at_price":6000,"per_delivery_price":4800,"selling_plan_id":2971238634,"selling_plan_group_id":"4c729edfe5cf3e85b4b90e178fb53cdbfd1d0008"},{"price_adjustments":[{"position":1,"price":4800},{"position":2,"price":5400}],"price":4800,"compare_at_price":6000,"per_delivery_price":4800,"selling_plan_id":2971271402,"selling_plan_group_id":"4c729edfe5cf3e85b4b90e178fb53cdbfd1d0008"},{"price_adjustments":[{"position":1,"price":4800},{"position":2,"price":5400}],"price":4800,"compare_at_price":6000,"per_delivery_price":4800,"selling_plan_id":2971304170,"selling_plan_group_id":"4c729edfe5cf3e85b4b90e178fb53cdbfd1d0008"},{"price_adjustments":[{"position":1,"price":4800},{"position":2,"price":5400}],"price":4800,"compare_at_price":6000,"per_delivery_price":4800,"selling_plan_id":2971336938,"selling_plan_group_id":"4c729edfe5cf3e85b4b90e178fb53cdbfd1d0008"}]},{"id":42437152604394,"title":"Multi Classic Combo \/ 16 Sticks","option1":"Multi Classic Combo","option2":"16 Sticks","option3":null,"sku":"VP-0005","requires_shipping":true,"taxable":false,"featured_image":{"id":36581265244394,"product_id":5251922919591,"position":8,"created_at":"2022-01-31T17:38:57-05:00","updated_at":"2022-01-31T17:38:57-05:00","alt":"flavor: Multi Classic Combo","width":1080,"height":1080,"src":"\/\/www.barebonesbroth.com\/cdn\/shop\/products\/BB_Instant_Classic_Mulitpack.png?v=1643668737","variant_ids":[42437152604394]},"available":true,"name":"Instant Bone Broth - Multi Classic Combo \/ 16 Sticks","public_title":"Multi Classic Combo \/ 16 Sticks","options":["Multi Classic Combo","16 Sticks"],"price":3000,"weight":241,"compare_at_price":null,"inventory_management":"shopify","barcode":"","featured_media":{"alt":"flavor: Multi Classic Combo","id":29135987769578,"position":8,"preview_image":{"aspect_ratio":1.0,"height":1080,"width":1080,"src":"\/\/www.barebonesbroth.com\/cdn\/shop\/products\/BB_Instant_Classic_Mulitpack.png?v=1643668737"}},"requires_selling_plan":false,"selling_plan_allocations":[{"price_adjustments":[{"position":1,"price":2400},{"position":2,"price":2700}],"price":2400,"compare_at_price":3000,"per_delivery_price":2400,"selling_plan_id":2924249322,"selling_plan_group_id":"4c729edfe5cf3e85b4b90e178fb53cdbfd1d0008"},{"price_adjustments":[{"position":1,"price":2400},{"position":2,"price":2700}],"price":2400,"compare_at_price":3000,"per_delivery_price":2400,"selling_plan_id":2928541930,"selling_plan_group_id":"4c729edfe5cf3e85b4b90e178fb53cdbfd1d0008"},{"price_adjustments":[{"position":1,"price":2400},{"position":2,"price":2700}],"price":2400,"compare_at_price":3000,"per_delivery_price":2400,"selling_plan_id":2928574698,"selling_plan_group_id":"4c729edfe5cf3e85b4b90e178fb53cdbfd1d0008"},{"price_adjustments":[{"position":1,"price":2400},{"position":2,"price":2700}],"price":2400,"compare_at_price":3000,"per_delivery_price":2400,"selling_plan_id":2970943722,"selling_plan_group_id":"4c729edfe5cf3e85b4b90e178fb53cdbfd1d0008"},{"price_adjustments":[{"position":1,"price":2400},{"position":2,"price":2700}],"price":2400,"compare_at_price":3000,"per_delivery_price":2400,"selling_plan_id":2970976490,"selling_plan_group_id":"4c729edfe5cf3e85b4b90e178fb53cdbfd1d0008"},{"price_adjustments":[{"position":1,"price":2400},{"position":2,"price":2700}],"price":2400,"compare_at_price":3000,"per_delivery_price":2400,"selling_plan_id":2971009258,"selling_plan_group_id":"4c729edfe5cf3e85b4b90e178fb53cdbfd1d0008"},{"price_adjustments":[{"position":1,"price":2400},{"position":2,"price":2700}],"price":2400,"compare_at_price":3000,"per_delivery_price":2400,"selling_plan_id":2971042026,"selling_plan_group_id":"4c729edfe5cf3e85b4b90e178fb53cdbfd1d0008"},{"price_adjustments":[{"position":1,"price":2400},{"position":2,"price":2700}],"price":2400,"compare_at_price":3000,"per_delivery_price":2400,"selling_plan_id":2971074794,"selling_plan_group_id":"4c729edfe5cf3e85b4b90e178fb53cdbfd1d0008"},{"price_adjustments":[{"position":1,"price":2400},{"position":2,"price":2700}],"price":2400,"compare_at_price":3000,"per_delivery_price":2400,"selling_plan_id":2971107562,"selling_plan_group_id":"4c729edfe5cf3e85b4b90e178fb53cdbfd1d0008"},{"price_adjustments":[{"position":1,"price":2400},{"position":2,"price":2700}],"price":2400,"compare_at_price":3000,"per_delivery_price":2400,"selling_plan_id":2971140330,"selling_plan_group_id":"4c729edfe5cf3e85b4b90e178fb53cdbfd1d0008"},{"price_adjustments":[{"position":1,"price":2400},{"position":2,"price":2700}],"price":2400,"compare_at_price":3000,"per_delivery_price":2400,"selling_plan_id":2971173098,"selling_plan_group_id":"4c729edfe5cf3e85b4b90e178fb53cdbfd1d0008"},{"price_adjustments":[{"position":1,"price":2400},{"position":2,"price":2700}],"price":2400,"compare_at_price":3000,"per_delivery_price":2400,"selling_plan_id":2971205866,"selling_plan_group_id":"4c729edfe5cf3e85b4b90e178fb53cdbfd1d0008"},{"price_adjustments":[{"position":1,"price":2400},{"position":2,"price":2700}],"price":2400,"compare_at_price":3000,"per_delivery_price":2400,"selling_plan_id":2971238634,"selling_plan_group_id":"4c729edfe5cf3e85b4b90e178fb53cdbfd1d0008"},{"price_adjustments":[{"position":1,"price":2400},{"position":2,"price":2700}],"price":2400,"compare_at_price":3000,"per_delivery_price":2400,"selling_plan_id":2971271402,"selling_plan_group_id":"4c729edfe5cf3e85b4b90e178fb53cdbfd1d0008"},{"price_adjustments":[{"position":1,"price":2400},{"position":2,"price":2700}],"price":2400,"compare_at_price":3000,"per_delivery_price":2400,"selling_plan_id":2971304170,"selling_plan_group_id":"4c729edfe5cf3e85b4b90e178fb53cdbfd1d0008"},{"price_adjustments":[{"position":1,"price":2400},{"position":2,"price":2700}],"price":2400,"compare_at_price":3000,"per_delivery_price":2400,"selling_plan_id":2971336938,"selling_plan_group_id":"4c729edfe5cf3e85b4b90e178fb53cdbfd1d0008"}]},{"id":42442303406314,"title":"Multi Limited Edition \/ 16 Sticks","option1":"Multi Limited Edition","option2":"16 Sticks","option3":null,"sku":"VP-0013","requires_shipping":true,"taxable":false,"featured_image":{"id":36588171329770,"product_id":5251922919591,"position":9,"created_at":"2022-02-01T20:54:35-05:00","updated_at":"2022-02-01T20:54:35-05:00","alt":"Flavor: Multi Limited Edition","width":1080,"height":1080,"src":"\/\/www.barebonesbroth.com\/cdn\/shop\/products\/BB_Instant_LimitedEdition_Mulitpack.png?v=1643766875","variant_ids":[42442303406314]},"available":true,"name":"Instant Bone Broth - Multi Limited Edition \/ 16 Sticks","public_title":"Multi Limited Edition \/ 16 Sticks","options":["Multi Limited Edition","16 Sticks"],"price":3000,"weight":241,"compare_at_price":null,"inventory_management":"shopify","barcode":"","featured_media":{"alt":"Flavor: Multi Limited Edition","id":29143073259754,"position":9,"preview_image":{"aspect_ratio":1.0,"height":1080,"width":1080,"src":"\/\/www.barebonesbroth.com\/cdn\/shop\/products\/BB_Instant_LimitedEdition_Mulitpack.png?v=1643766875"}},"requires_selling_plan":false,"selling_plan_allocations":[{"price_adjustments":[{"position":1,"price":2400},{"position":2,"price":2700}],"price":2400,"compare_at_price":3000,"per_delivery_price":2400,"selling_plan_id":2924249322,"selling_plan_group_id":"4c729edfe5cf3e85b4b90e178fb53cdbfd1d0008"},{"price_adjustments":[{"position":1,"price":2400},{"position":2,"price":2700}],"price":2400,"compare_at_price":3000,"per_delivery_price":2400,"selling_plan_id":2928541930,"selling_plan_group_id":"4c729edfe5cf3e85b4b90e178fb53cdbfd1d0008"},{"price_adjustments":[{"position":1,"price":2400},{"position":2,"price":2700}],"price":2400,"compare_at_price":3000,"per_delivery_price":2400,"selling_plan_id":2928574698,"selling_plan_group_id":"4c729edfe5cf3e85b4b90e178fb53cdbfd1d0008"},{"price_adjustments":[{"position":1,"price":2400},{"position":2,"price":2700}],"price":2400,"compare_at_price":3000,"per_delivery_price":2400,"selling_plan_id":2970943722,"selling_plan_group_id":"4c729edfe5cf3e85b4b90e178fb53cdbfd1d0008"},{"price_adjustments":[{"position":1,"price":2400},{"position":2,"price":2700}],"price":2400,"compare_at_price":3000,"per_delivery_price":2400,"selling_plan_id":2970976490,"selling_plan_group_id":"4c729edfe5cf3e85b4b90e178fb53cdbfd1d0008"},{"price_adjustments":[{"position":1,"price":2400},{"position":2,"price":2700}],"price":2400,"compare_at_price":3000,"per_delivery_price":2400,"selling_plan_id":2971009258,"selling_plan_group_id":"4c729edfe5cf3e85b4b90e178fb53cdbfd1d0008"},{"price_adjustments":[{"position":1,"price":2400},{"position":2,"price":2700}],"price":2400,"compare_at_price":3000,"per_delivery_price":2400,"selling_plan_id":2971042026,"selling_plan_group_id":"4c729edfe5cf3e85b4b90e178fb53cdbfd1d0008"},{"price_adjustments":[{"position":1,"price":2400},{"position":2,"price":2700}],"price":2400,"compare_at_price":3000,"per_delivery_price":2400,"selling_plan_id":2971074794,"selling_plan_group_id":"4c729edfe5cf3e85b4b90e178fb53cdbfd1d0008"},{"price_adjustments":[{"position":1,"price":2400},{"position":2,"price":2700}],"price":2400,"compare_at_price":3000,"per_delivery_price":2400,"selling_plan_id":2971107562,"selling_plan_group_id":"4c729edfe5cf3e85b4b90e178fb53cdbfd1d0008"},{"price_adjustments":[{"position":1,"price":2400},{"position":2,"price":2700}],"price":2400,"compare_at_price":3000,"per_delivery_price":2400,"selling_plan_id":2971140330,"selling_plan_group_id":"4c729edfe5cf3e85b4b90e178fb53cdbfd1d0008"},{"price_adjustments":[{"position":1,"price":2400},{"position":2,"price":2700}],"price":2400,"compare_at_price":3000,"per_delivery_price":2400,"selling_plan_id":2971173098,"selling_plan_group_id":"4c729edfe5cf3e85b4b90e178fb53cdbfd1d0008"},{"price_adjustments":[{"position":1,"price":2400},{"position":2,"price":2700}],"price":2400,"compare_at_price":3000,"per_delivery_price":2400,"selling_plan_id":2971205866,"selling_plan_group_id":"4c729edfe5cf3e85b4b90e178fb53cdbfd1d0008"},{"price_adjustments":[{"position":1,"price":2400},{"position":2,"price":2700}],"price":2400,"compare_at_price":3000,"per_delivery_price":2400,"selling_plan_id":2971238634,"selling_plan_group_id":"4c729edfe5cf3e85b4b90e178fb53cdbfd1d0008"},{"price_adjustments":[{"position":1,"price":2400},{"position":2,"price":2700}],"price":2400,"compare_at_price":3000,"per_delivery_price":2400,"selling_plan_id":2971271402,"selling_plan_group_id":"4c729edfe5cf3e85b4b90e178fb53cdbfd1d0008"},{"price_adjustments":[{"position":1,"price":2400},{"position":2,"price":2700}],"price":2400,"compare_at_price":3000,"per_delivery_price":2400,"selling_plan_id":2971304170,"selling_plan_group_id":"4c729edfe5cf3e85b4b90e178fb53cdbfd1d0008"},{"price_adjustments":[{"position":1,"price":2400},{"position":2,"price":2700}],"price":2400,"compare_at_price":3000,"per_delivery_price":2400,"selling_plan_id":2971336938,"selling_plan_group_id":"4c729edfe5cf3e85b4b90e178fb53cdbfd1d0008"}]},{"id":42460660203754,"title":"Multi Best Sellers \/ 16 Sticks","option1":"Multi Best Sellers","option2":"16 Sticks","option3":null,"sku":"VP-0014","requires_shipping":true,"taxable":false,"featured_image":{"id":36626421448938,"product_id":5251922919591,"position":10,"created_at":"2022-02-07T10:39:11-05:00","updated_at":"2022-02-07T10:39:11-05:00","alt":"Flavor: Multi Best Sellers","width":1080,"height":1080,"src":"\/\/www.barebonesbroth.com\/cdn\/shop\/products\/BB_Instant_BestSellers_Mulitpack.png?v=1644248351","variant_ids":[42460660203754]},"available":true,"name":"Instant Bone Broth - Multi Best Sellers \/ 16 Sticks","public_title":"Multi Best Sellers \/ 16 Sticks","options":["Multi Best Sellers","16 Sticks"],"price":3000,"weight":241,"compare_at_price":null,"inventory_management":"shopify","barcode":"","featured_media":{"alt":"Flavor: Multi Best Sellers","id":29182196482282,"position":10,"preview_image":{"aspect_ratio":1.0,"height":1080,"width":1080,"src":"\/\/www.barebonesbroth.com\/cdn\/shop\/products\/BB_Instant_BestSellers_Mulitpack.png?v=1644248351"}},"requires_selling_plan":false,"selling_plan_allocations":[{"price_adjustments":[{"position":1,"price":2400},{"position":2,"price":2700}],"price":2400,"compare_at_price":3000,"per_delivery_price":2400,"selling_plan_id":2924249322,"selling_plan_group_id":"4c729edfe5cf3e85b4b90e178fb53cdbfd1d0008"},{"price_adjustments":[{"position":1,"price":2400},{"position":2,"price":2700}],"price":2400,"compare_at_price":3000,"per_delivery_price":2400,"selling_plan_id":2928541930,"selling_plan_group_id":"4c729edfe5cf3e85b4b90e178fb53cdbfd1d0008"},{"price_adjustments":[{"position":1,"price":2400},{"position":2,"price":2700}],"price":2400,"compare_at_price":3000,"per_delivery_price":2400,"selling_plan_id":2928574698,"selling_plan_group_id":"4c729edfe5cf3e85b4b90e178fb53cdbfd1d0008"},{"price_adjustments":[{"position":1,"price":2400},{"position":2,"price":2700}],"price":2400,"compare_at_price":3000,"per_delivery_price":2400,"selling_plan_id":2970943722,"selling_plan_group_id":"4c729edfe5cf3e85b4b90e178fb53cdbfd1d0008"},{"price_adjustments":[{"position":1,"price":2400},{"position":2,"price":2700}],"price":2400,"compare_at_price":3000,"per_delivery_price":2400,"selling_plan_id":2970976490,"selling_plan_group_id":"4c729edfe5cf3e85b4b90e178fb53cdbfd1d0008"},{"price_adjustments":[{"position":1,"price":2400},{"position":2,"price":2700}],"price":2400,"compare_at_price":3000,"per_delivery_price":2400,"selling_plan_id":2971009258,"selling_plan_group_id":"4c729edfe5cf3e85b4b90e178fb53cdbfd1d0008"},{"price_adjustments":[{"position":1,"price":2400},{"position":2,"price":2700}],"price":2400,"compare_at_price":3000,"per_delivery_price":2400,"selling_plan_id":2971042026,"selling_plan_group_id":"4c729edfe5cf3e85b4b90e178fb53cdbfd1d0008"},{"price_adjustments":[{"position":1,"price":2400},{"position":2,"price":2700}],"price":2400,"compare_at_price":3000,"per_delivery_price":2400,"selling_plan_id":2971074794,"selling_plan_group_id":"4c729edfe5cf3e85b4b90e178fb53cdbfd1d0008"},{"price_adjustments":[{"position":1,"price":2400},{"position":2,"price":2700}],"price":2400,"compare_at_price":3000,"per_delivery_price":2400,"selling_plan_id":2971107562,"selling_plan_group_id":"4c729edfe5cf3e85b4b90e178fb53cdbfd1d0008"},{"price_adjustments":[{"position":1,"price":2400},{"position":2,"price":2700}],"price":2400,"compare_at_price":3000,"per_delivery_price":2400,"selling_plan_id":2971140330,"selling_plan_group_id":"4c729edfe5cf3e85b4b90e178fb53cdbfd1d0008"},{"price_adjustments":[{"position":1,"price":2400},{"position":2,"price":2700}],"price":2400,"compare_at_price":3000,"per_delivery_price":2400,"selling_plan_id":2971173098,"selling_plan_group_id":"4c729edfe5cf3e85b4b90e178fb53cdbfd1d0008"},{"price_adjustments":[{"position":1,"price":2400},{"position":2,"price":2700}],"price":2400,"compare_at_price":3000,"per_delivery_price":2400,"selling_plan_id":2971205866,"selling_plan_group_id":"4c729edfe5cf3e85b4b90e178fb53cdbfd1d0008"},{"price_adjustments":[{"position":1,"price":2400},{"position":2,"price":2700}],"price":2400,"compare_at_price":3000,"per_delivery_price":2400,"selling_plan_id":2971238634,"selling_plan_group_id":"4c729edfe5cf3e85b4b90e178fb53cdbfd1d0008"},{"price_adjustments":[{"position":1,"price":2400},{"position":2,"price":2700}],"price":2400,"compare_at_price":3000,"per_delivery_price":2400,"selling_plan_id":2971271402,"selling_plan_group_id":"4c729edfe5cf3e85b4b90e178fb53cdbfd1d0008"},{"price_adjustments":[{"position":1,"price":2400},{"position":2,"price":2700}],"price":2400,"compare_at_price":3000,"per_delivery_price":2400,"selling_plan_id":2971304170,"selling_plan_group_id":"4c729edfe5cf3e85b4b90e178fb53cdbfd1d0008"},{"price_adjustments":[{"position":1,"price":2400},{"position":2,"price":2700}],"price":2400,"compare_at_price":3000,"per_delivery_price":2400,"selling_plan_id":2971336938,"selling_plan_group_id":"4c729edfe5cf3e85b4b90e178fb53cdbfd1d0008"}]}],"images":["\/\/www.barebonesbroth.com\/cdn\/shop\/products\/BareBones_Beef_InstantBroth_Pouch_Mockup_Front.png?v=1643396876","\/\/www.barebonesbroth.com\/cdn\/shop\/products\/BareBones_Chicken_InstantBroth_Pouch_Mockup_Front_copy_b63c936b-11e8-4ace-9539-cd25c630396f.png?v=1643396722","\/\/www.barebonesbroth.com\/cdn\/shop\/products\/Innovation_Variety_Pack.png?v=1643396722","\/\/www.barebonesbroth.com\/cdn\/shop\/products\/Ramen_8x2_f5dd1ddf-2fca-4b6e-aef9-a9ad3ea53fa8.png?v=1643396722","\/\/www.barebonesbroth.com\/cdn\/shop\/products\/Lemon_Ginger_8x2_c1fc1bad-cbf1-46fa-aa1e-f53a21b50803.png?v=1643396722","\/\/www.barebonesbroth.com\/cdn\/shop\/products\/Mushroom_8x2_da93c1b2-f5bf-46c8-8060-45eda672a868.png?v=1643396722","\/\/www.barebonesbroth.com\/cdn\/shop\/products\/Thai_Coconut_8x2_55bb91a4-c4fc-436c-9a7b-813b3d06e4d1.png?v=1643396722","\/\/www.barebonesbroth.com\/cdn\/shop\/products\/BB_Instant_Classic_Mulitpack.png?v=1643668737","\/\/www.barebonesbroth.com\/cdn\/shop\/products\/BB_Instant_LimitedEdition_Mulitpack.png?v=1643766875","\/\/www.barebonesbroth.com\/cdn\/shop\/products\/BB_Instant_BestSellers_Mulitpack.png?v=1644248351"],"featured_image":"\/\/www.barebonesbroth.com\/cdn\/shop\/products\/BareBones_Beef_InstantBroth_Pouch_Mockup_Front.png?v=1643396876","options":["Flavor","Quantity"],"media":[{"alt":"Beef front package flavor:Beef","id":29119243747562,"position":1,"preview_image":{"aspect_ratio":0.78,"height":2755,"width":2148,"src":"\/\/www.barebonesbroth.com\/cdn\/shop\/products\/BareBones_Beef_InstantBroth_Pouch_Mockup_Front.png?v=1643396876"},"aspect_ratio":0.78,"height":2755,"media_type":"image","src":"\/\/www.barebonesbroth.com\/cdn\/shop\/products\/BareBones_Beef_InstantBroth_Pouch_Mockup_Front.png?v=1643396876","width":2148},{"alt":"Chicken front package flavor:Chicken","id":9378861023399,"position":2,"preview_image":{"aspect_ratio":1.0,"height":2148,"width":2148,"src":"\/\/www.barebonesbroth.com\/cdn\/shop\/products\/BareBones_Chicken_InstantBroth_Pouch_Mockup_Front_copy_b63c936b-11e8-4ace-9539-cd25c630396f.png?v=1643396722"},"aspect_ratio":1.0,"height":2148,"media_type":"image","src":"\/\/www.barebonesbroth.com\/cdn\/shop\/products\/BareBones_Chicken_InstantBroth_Pouch_Mockup_Front_copy_b63c936b-11e8-4ace-9539-cd25c630396f.png?v=1643396722","width":2148},{"alt":"flavor:Variety","id":23990711287975,"position":3,"preview_image":{"aspect_ratio":1.0,"height":2048,"width":2048,"src":"\/\/www.barebonesbroth.com\/cdn\/shop\/products\/Innovation_Variety_Pack.png?v=1643396722"},"aspect_ratio":1.0,"height":2048,"media_type":"image","src":"\/\/www.barebonesbroth.com\/cdn\/shop\/products\/Innovation_Variety_Pack.png?v=1643396722","width":2048},{"alt":"flavor:Ramen","id":23990756049063,"position":4,"preview_image":{"aspect_ratio":1.0,"height":2048,"width":2048,"src":"\/\/www.barebonesbroth.com\/cdn\/shop\/products\/Ramen_8x2_f5dd1ddf-2fca-4b6e-aef9-a9ad3ea53fa8.png?v=1643396722"},"aspect_ratio":1.0,"height":2048,"media_type":"image","src":"\/\/www.barebonesbroth.com\/cdn\/shop\/products\/Ramen_8x2_f5dd1ddf-2fca-4b6e-aef9-a9ad3ea53fa8.png?v=1643396722","width":2048},{"alt":"flavor:LemonGinger","id":23990789275815,"position":5,"preview_image":{"aspect_ratio":1.0,"height":2048,"width":2048,"src":"\/\/www.barebonesbroth.com\/cdn\/shop\/products\/Lemon_Ginger_8x2_c1fc1bad-cbf1-46fa-aa1e-f53a21b50803.png?v=1643396722"},"aspect_ratio":1.0,"height":2048,"media_type":"image","src":"\/\/www.barebonesbroth.com\/cdn\/shop\/products\/Lemon_Ginger_8x2_c1fc1bad-cbf1-46fa-aa1e-f53a21b50803.png?v=1643396722","width":2048},{"alt":"flavor:Mushroom","id":23990806085799,"position":6,"preview_image":{"aspect_ratio":1.0,"height":2048,"width":2048,"src":"\/\/www.barebonesbroth.com\/cdn\/shop\/products\/Mushroom_8x2_da93c1b2-f5bf-46c8-8060-45eda672a868.png?v=1643396722"},"aspect_ratio":1.0,"height":2048,"media_type":"image","src":"\/\/www.barebonesbroth.com\/cdn\/shop\/products\/Mushroom_8x2_da93c1b2-f5bf-46c8-8060-45eda672a868.png?v=1643396722","width":2048},{"alt":"flavor:ThaiCoconut","id":23990837084327,"position":7,"preview_image":{"aspect_ratio":1.0,"height":2048,"width":2048,"src":"\/\/www.barebonesbroth.com\/cdn\/shop\/products\/Thai_Coconut_8x2_55bb91a4-c4fc-436c-9a7b-813b3d06e4d1.png?v=1643396722"},"aspect_ratio":1.0,"height":2048,"media_type":"image","src":"\/\/www.barebonesbroth.com\/cdn\/shop\/products\/Thai_Coconut_8x2_55bb91a4-c4fc-436c-9a7b-813b3d06e4d1.png?v=1643396722","width":2048},{"alt":"flavor: Multi Classic Combo","id":29135987769578,"position":8,"preview_image":{"aspect_ratio":1.0,"height":1080,"width":1080,"src":"\/\/www.barebonesbroth.com\/cdn\/shop\/products\/BB_Instant_Classic_Mulitpack.png?v=1643668737"},"aspect_ratio":1.0,"height":1080,"media_type":"image","src":"\/\/www.barebonesbroth.com\/cdn\/shop\/products\/BB_Instant_Classic_Mulitpack.png?v=1643668737","width":1080},{"alt":"Flavor: Multi Limited Edition","id":29143073259754,"position":9,"preview_image":{"aspect_ratio":1.0,"height":1080,"width":1080,"src":"\/\/www.barebonesbroth.com\/cdn\/shop\/products\/BB_Instant_LimitedEdition_Mulitpack.png?v=1643766875"},"aspect_ratio":1.0,"height":1080,"media_type":"image","src":"\/\/www.barebonesbroth.com\/cdn\/shop\/products\/BB_Instant_LimitedEdition_Mulitpack.png?v=1643766875","width":1080},{"alt":"Flavor: Multi Best Sellers","id":29182196482282,"position":10,"preview_image":{"aspect_ratio":1.0,"height":1080,"width":1080,"src":"\/\/www.barebonesbroth.com\/cdn\/shop\/products\/BB_Instant_BestSellers_Mulitpack.png?v=1644248351"},"aspect_ratio":1.0,"height":1080,"media_type":"image","src":"\/\/www.barebonesbroth.com\/cdn\/shop\/products\/BB_Instant_BestSellers_Mulitpack.png?v=1644248351","width":1080}],"requires_selling_plan":false,"selling_plan_groups":[{"id":"4c729edfe5cf3e85b4b90e178fb53cdbfd1d0008","name":"Subscribe \u0026 Save 20%*","options":[{"name":"Frequency","position":1,"values":["Delivered once a month","Delivered every 2 months","Delivered every 3 months","Delivered every 4 months{{H}}","Delivered every 5 months{{H}}","Delivered every 6 months{{H}}","Delivered every 7 months{{H}}","Delivered every 8 months{{H}}","Delivered every 10 months{{H}}","Delivered every 12 months{{H}}","Delivered every 13 months{{H}}","Delivered every 4 weeks{{H}}","Delivered every 5 weeks{{H}}","Delivered every 6 weeks{{H}}","Delivered every 8 weeks{{H}}","Delivered every 10 days{{H}}"]}],"selling_plans":[{"id":2924249322,"name":"Delivered once a month","description":"","options":[{"name":"Frequency","position":1,"value":"Delivered once a month"}],"recurring_deliveries":true,"price_adjustments":[{"order_count":1,"position":1,"value_type":"percentage","value":20},{"order_count":null,"position":2,"value_type":"percentage","value":10}],"checkout_charge":{"value_type":"percentage","value":100}},{"id":2928541930,"name":"Delivered every 2 months","description":"","options":[{"name":"Frequency","position":1,"value":"Delivered every 2 months"}],"recurring_deliveries":true,"price_adjustments":[{"order_count":1,"position":1,"value_type":"percentage","value":20},{"order_count":null,"position":2,"value_type":"percentage","value":10}],"checkout_charge":{"value_type":"percentage","value":100}},{"id":2928574698,"name":"Delivered every 3 months","description":"","options":[{"name":"Frequency","position":1,"value":"Delivered every 3 months"}],"recurring_deliveries":true,"price_adjustments":[{"order_count":1,"position":1,"value_type":"percentage","value":20},{"order_count":null,"position":2,"value_type":"percentage","value":10}],"checkout_charge":{"value_type":"percentage","value":100}},{"id":2970943722,"name":"Delivered every 4 months","description":"","options":[{"name":"Frequency","position":1,"value":"Delivered every 4 months{{H}}"}],"recurring_deliveries":true,"price_adjustments":[{"order_count":1,"position":1,"value_type":"percentage","value":20},{"order_count":null,"position":2,"value_type":"percentage","value":10}],"checkout_charge":{"value_type":"percentage","value":100}},{"id":2970976490,"name":"Delivered every 5 months","description":"","options":[{"name":"Frequency","position":1,"value":"Delivered every 5 months{{H}}"}],"recurring_deliveries":true,"price_adjustments":[{"order_count":1,"position":1,"value_type":"percentage","value":20},{"order_count":null,"position":2,"value_type":"percentage","value":10}],"checkout_charge":{"value_type":"percentage","value":100}},{"id":2971009258,"name":"Delivered every 6 months","description":"","options":[{"name":"Frequency","position":1,"value":"Delivered every 6 months{{H}}"}],"recurring_deliveries":true,"price_adjustments":[{"order_count":1,"position":1,"value_type":"percentage","value":20},{"order_count":null,"position":2,"value_type":"percentage","value":10}],"checkout_charge":{"value_type":"percentage","value":100}},{"id":2971042026,"name":"Delivered every 7 months","description":"","options":[{"name":"Frequency","position":1,"value":"Delivered every 7 months{{H}}"}],"recurring_deliveries":true,"price_adjustments":[{"order_count":1,"position":1,"value_type":"percentage","value":20},{"order_count":null,"position":2,"value_type":"percentage","value":10}],"checkout_charge":{"value_type":"percentage","value":100}},{"id":2971074794,"name":"Delivered every 8 months","description":"","options":[{"name":"Frequency","position":1,"value":"Delivered every 8 months{{H}}"}],"recurring_deliveries":true,"price_adjustments":[{"order_count":1,"position":1,"value_type":"percentage","value":20},{"order_count":null,"position":2,"value_type":"percentage","value":10}],"checkout_charge":{"value_type":"percentage","value":100}},{"id":2971107562,"name":"Delivered every 10 months","description":"","options":[{"name":"Frequency","position":1,"value":"Delivered every 10 months{{H}}"}],"recurring_deliveries":true,"price_adjustments":[{"order_count":1,"position":1,"value_type":"percentage","value":20},{"order_count":null,"position":2,"value_type":"percentage","value":10}],"checkout_charge":{"value_type":"percentage","value":100}},{"id":2971140330,"name":"Delivered every 12 months","description":"","options":[{"name":"Frequency","position":1,"value":"Delivered every 12 months{{H}}"}],"recurring_deliveries":true,"price_adjustments":[{"order_count":1,"position":1,"value_type":"percentage","value":20},{"order_count":null,"position":2,"value_type":"percentage","value":10}],"checkout_charge":{"value_type":"percentage","value":100}},{"id":2971173098,"name":"Delivered every 13 months","description":"","options":[{"name":"Frequency","position":1,"value":"Delivered every 13 months{{H}}"}],"recurring_deliveries":true,"price_adjustments":[{"order_count":1,"position":1,"value_type":"percentage","value":20},{"order_count":null,"position":2,"value_type":"percentage","value":10}],"checkout_charge":{"value_type":"percentage","value":100}},{"id":2971205866,"name":"Delivered every 4 weeks","description":"","options":[{"name":"Frequency","position":1,"value":"Delivered every 4 weeks{{H}}"}],"recurring_deliveries":true,"price_adjustments":[{"order_count":1,"position":1,"value_type":"percentage","value":20},{"order_count":null,"position":2,"value_type":"percentage","value":10}],"checkout_charge":{"value_type":"percentage","value":100}},{"id":2971238634,"name":"Delivered every 5 weeks","description":"","options":[{"name":"Frequency","position":1,"value":"Delivered every 5 weeks{{H}}"}],"recurring_deliveries":true,"price_adjustments":[{"order_count":1,"position":1,"value_type":"percentage","value":20},{"order_count":null,"position":2,"value_type":"percentage","value":10}],"checkout_charge":{"value_type":"percentage","value":100}},{"id":2971271402,"name":"Delivered every 6 weeks","description":"","options":[{"name":"Frequency","position":1,"value":"Delivered every 6 weeks{{H}}"}],"recurring_deliveries":true,"price_adjustments":[{"order_count":1,"position":1,"value_type":"percentage","value":20},{"order_count":null,"position":2,"value_type":"percentage","value":10}],"checkout_charge":{"value_type":"percentage","value":100}},{"id":2971304170,"name":"Delivered every 8 weeks","description":"","options":[{"name":"Frequency","position":1,"value":"Delivered every 8 weeks{{H}}"}],"recurring_deliveries":true,"price_adjustments":[{"order_count":1,"position":1,"value_type":"percentage","value":20},{"order_count":null,"position":2,"value_type":"percentage","value":10}],"checkout_charge":{"value_type":"percentage","value":100}},{"id":2971336938,"name":"Delivered every 10 days","description":"","options":[{"name":"Frequency","position":1,"value":"Delivered every 10 days{{H}}"}],"recurring_deliveries":true,"price_adjustments":[{"order_count":1,"position":1,"value_type":"percentage","value":20},{"order_count":null,"position":2,"value_type":"percentage","value":10}],"checkout_charge":{"value_type":"percentage","value":100}}],"app_id":"4836205"}],"content":"\u003cmeta charset=\"utf-8\"\u003e\u003cspan data-mce-fragment=\"1\"\u003ePowdered bone broth mixes instantly with water for the perfect sipping snack, meal base, or seasoning.\u003c\/span\u003e"}, leafletMetafields: {}, variants: [{ ...{"id":34493902815399,"title":"Beef \/ 16 Sticks","option1":"Beef","option2":"16 Sticks","option3":null,"sku":"IB-4027","requires_shipping":true,"taxable":false,"featured_image":{"id":36564874658026,"product_id":5251922919591,"position":1,"created_at":"2022-01-28T14:03:57-05:00","updated_at":"2022-01-28T14:07:56-05:00","alt":"Beef front package flavor:Beef","width":2148,"height":2755,"src":"\/\/www.barebonesbroth.com\/cdn\/shop\/products\/BareBones_Beef_InstantBroth_Pouch_Mockup_Front.png?v=1643396876","variant_ids":[34493902815399]},"available":true,"name":"Instant Bone Broth - Beef \/ 16 Sticks","public_title":"Beef \/ 16 Sticks","options":["Beef","16 Sticks"],"price":3000,"weight":241,"compare_at_price":null,"inventory_management":"shopify","barcode":"8-50005-32402-7","featured_media":{"alt":"Beef front package flavor:Beef","id":29119243747562,"position":1,"preview_image":{"aspect_ratio":0.78,"height":2755,"width":2148,"src":"\/\/www.barebonesbroth.com\/cdn\/shop\/products\/BareBones_Beef_InstantBroth_Pouch_Mockup_Front.png?v=1643396876"}},"requires_selling_plan":false,"selling_plan_allocations":[{"price_adjustments":[{"position":1,"price":2400},{"position":2,"price":2700}],"price":2400,"compare_at_price":3000,"per_delivery_price":2400,"selling_plan_id":2924249322,"selling_plan_group_id":"4c729edfe5cf3e85b4b90e178fb53cdbfd1d0008"},{"price_adjustments":[{"position":1,"price":2400},{"position":2,"price":2700}],"price":2400,"compare_at_price":3000,"per_delivery_price":2400,"selling_plan_id":2928541930,"selling_plan_group_id":"4c729edfe5cf3e85b4b90e178fb53cdbfd1d0008"},{"price_adjustments":[{"position":1,"price":2400},{"position":2,"price":2700}],"price":2400,"compare_at_price":3000,"per_delivery_price":2400,"selling_plan_id":2928574698,"selling_plan_group_id":"4c729edfe5cf3e85b4b90e178fb53cdbfd1d0008"},{"price_adjustments":[{"position":1,"price":2400},{"position":2,"price":2700}],"price":2400,"compare_at_price":3000,"per_delivery_price":2400,"selling_plan_id":2970943722,"selling_plan_group_id":"4c729edfe5cf3e85b4b90e178fb53cdbfd1d0008"},{"price_adjustments":[{"position":1,"price":2400},{"position":2,"price":2700}],"price":2400,"compare_at_price":3000,"per_delivery_price":2400,"selling_plan_id":2970976490,"selling_plan_group_id":"4c729edfe5cf3e85b4b90e178fb53cdbfd1d0008"},{"price_adjustments":[{"position":1,"price":2400},{"position":2,"price":2700}],"price":2400,"compare_at_price":3000,"per_delivery_price":2400,"selling_plan_id":2971009258,"selling_plan_group_id":"4c729edfe5cf3e85b4b90e178fb53cdbfd1d0008"},{"price_adjustments":[{"position":1,"price":2400},{"position":2,"price":2700}],"price":2400,"compare_at_price":3000,"per_delivery_price":2400,"selling_plan_id":2971042026,"selling_plan_group_id":"4c729edfe5cf3e85b4b90e178fb53cdbfd1d0008"},{"price_adjustments":[{"position":1,"price":2400},{"position":2,"price":2700}],"price":2400,"compare_at_price":3000,"per_delivery_price":2400,"selling_plan_id":2971074794,"selling_plan_group_id":"4c729edfe5cf3e85b4b90e178fb53cdbfd1d0008"},{"price_adjustments":[{"position":1,"price":2400},{"position":2,"price":2700}],"price":2400,"compare_at_price":3000,"per_delivery_price":2400,"selling_plan_id":2971107562,"selling_plan_group_id":"4c729edfe5cf3e85b4b90e178fb53cdbfd1d0008"},{"price_adjustments":[{"position":1,"price":2400},{"position":2,"price":2700}],"price":2400,"compare_at_price":3000,"per_delivery_price":2400,"selling_plan_id":2971140330,"selling_plan_group_id":"4c729edfe5cf3e85b4b90e178fb53cdbfd1d0008"},{"price_adjustments":[{"position":1,"price":2400},{"position":2,"price":2700}],"price":2400,"compare_at_price":3000,"per_delivery_price":2400,"selling_plan_id":2971173098,"selling_plan_group_id":"4c729edfe5cf3e85b4b90e178fb53cdbfd1d0008"},{"price_adjustments":[{"position":1,"price":2400},{"position":2,"price":2700}],"price":2400,"compare_at_price":3000,"per_delivery_price":2400,"selling_plan_id":2971205866,"selling_plan_group_id":"4c729edfe5cf3e85b4b90e178fb53cdbfd1d0008"},{"price_adjustments":[{"position":1,"price":2400},{"position":2,"price":2700}],"price":2400,"compare_at_price":3000,"per_delivery_price":2400,"selling_plan_id":2971238634,"selling_plan_group_id":"4c729edfe5cf3e85b4b90e178fb53cdbfd1d0008"},{"price_adjustments":[{"position":1,"price":2400},{"position":2,"price":2700}],"price":2400,"compare_at_price":3000,"per_delivery_price":2400,"selling_plan_id":2971271402,"selling_plan_group_id":"4c729edfe5cf3e85b4b90e178fb53cdbfd1d0008"},{"price_adjustments":[{"position":1,"price":2400},{"position":2,"price":2700}],"price":2400,"compare_at_price":3000,"per_delivery_price":2400,"selling_plan_id":2971304170,"selling_plan_group_id":"4c729edfe5cf3e85b4b90e178fb53cdbfd1d0008"},{"price_adjustments":[{"position":1,"price":2400},{"position":2,"price":2700}],"price":2400,"compare_at_price":3000,"per_delivery_price":2400,"selling_plan_id":2971336938,"selling_plan_group_id":"4c729edfe5cf3e85b4b90e178fb53cdbfd1d0008"}]}, leafletMetafields: {}, },{ ...{"id":34493902782631,"title":"Chicken \/ 16 Sticks","option1":"Chicken","option2":"16 Sticks","option3":null,"sku":"IB-4133","requires_shipping":true,"taxable":false,"featured_image":{"id":17204917567655,"product_id":5251922919591,"position":2,"created_at":"2020-06-01T03:45:42-04:00","updated_at":"2022-01-28T14:05:22-05:00","alt":"Chicken front package flavor:Chicken","width":2148,"height":2148,"src":"\/\/www.barebonesbroth.com\/cdn\/shop\/products\/BareBones_Chicken_InstantBroth_Pouch_Mockup_Front_copy_b63c936b-11e8-4ace-9539-cd25c630396f.png?v=1643396722","variant_ids":[34493902782631]},"available":true,"name":"Instant Bone Broth - Chicken \/ 16 Sticks","public_title":"Chicken \/ 16 Sticks","options":["Chicken","16 Sticks"],"price":3000,"weight":254,"compare_at_price":null,"inventory_management":"shopify","barcode":"8-50005-32413-3","featured_media":{"alt":"Chicken front package flavor:Chicken","id":9378861023399,"position":2,"preview_image":{"aspect_ratio":1.0,"height":2148,"width":2148,"src":"\/\/www.barebonesbroth.com\/cdn\/shop\/products\/BareBones_Chicken_InstantBroth_Pouch_Mockup_Front_copy_b63c936b-11e8-4ace-9539-cd25c630396f.png?v=1643396722"}},"requires_selling_plan":false,"selling_plan_allocations":[{"price_adjustments":[{"position":1,"price":2400},{"position":2,"price":2700}],"price":2400,"compare_at_price":3000,"per_delivery_price":2400,"selling_plan_id":2924249322,"selling_plan_group_id":"4c729edfe5cf3e85b4b90e178fb53cdbfd1d0008"},{"price_adjustments":[{"position":1,"price":2400},{"position":2,"price":2700}],"price":2400,"compare_at_price":3000,"per_delivery_price":2400,"selling_plan_id":2928541930,"selling_plan_group_id":"4c729edfe5cf3e85b4b90e178fb53cdbfd1d0008"},{"price_adjustments":[{"position":1,"price":2400},{"position":2,"price":2700}],"price":2400,"compare_at_price":3000,"per_delivery_price":2400,"selling_plan_id":2928574698,"selling_plan_group_id":"4c729edfe5cf3e85b4b90e178fb53cdbfd1d0008"},{"price_adjustments":[{"position":1,"price":2400},{"position":2,"price":2700}],"price":2400,"compare_at_price":3000,"per_delivery_price":2400,"selling_plan_id":2970943722,"selling_plan_group_id":"4c729edfe5cf3e85b4b90e178fb53cdbfd1d0008"},{"price_adjustments":[{"position":1,"price":2400},{"position":2,"price":2700}],"price":2400,"compare_at_price":3000,"per_delivery_price":2400,"selling_plan_id":2970976490,"selling_plan_group_id":"4c729edfe5cf3e85b4b90e178fb53cdbfd1d0008"},{"price_adjustments":[{"position":1,"price":2400},{"position":2,"price":2700}],"price":2400,"compare_at_price":3000,"per_delivery_price":2400,"selling_plan_id":2971009258,"selling_plan_group_id":"4c729edfe5cf3e85b4b90e178fb53cdbfd1d0008"},{"price_adjustments":[{"position":1,"price":2400},{"position":2,"price":2700}],"price":2400,"compare_at_price":3000,"per_delivery_price":2400,"selling_plan_id":2971042026,"selling_plan_group_id":"4c729edfe5cf3e85b4b90e178fb53cdbfd1d0008"},{"price_adjustments":[{"position":1,"price":2400},{"position":2,"price":2700}],"price":2400,"compare_at_price":3000,"per_delivery_price":2400,"selling_plan_id":2971074794,"selling_plan_group_id":"4c729edfe5cf3e85b4b90e178fb53cdbfd1d0008"},{"price_adjustments":[{"position":1,"price":2400},{"position":2,"price":2700}],"price":2400,"compare_at_price":3000,"per_delivery_price":2400,"selling_plan_id":2971107562,"selling_plan_group_id":"4c729edfe5cf3e85b4b90e178fb53cdbfd1d0008"},{"price_adjustments":[{"position":1,"price":2400},{"position":2,"price":2700}],"price":2400,"compare_at_price":3000,"per_delivery_price":2400,"selling_plan_id":2971140330,"selling_plan_group_id":"4c729edfe5cf3e85b4b90e178fb53cdbfd1d0008"},{"price_adjustments":[{"position":1,"price":2400},{"position":2,"price":2700}],"price":2400,"compare_at_price":3000,"per_delivery_price":2400,"selling_plan_id":2971173098,"selling_plan_group_id":"4c729edfe5cf3e85b4b90e178fb53cdbfd1d0008"},{"price_adjustments":[{"position":1,"price":2400},{"position":2,"price":2700}],"price":2400,"compare_at_price":3000,"per_delivery_price":2400,"selling_plan_id":2971205866,"selling_plan_group_id":"4c729edfe5cf3e85b4b90e178fb53cdbfd1d0008"},{"price_adjustments":[{"position":1,"price":2400},{"position":2,"price":2700}],"price":2400,"compare_at_price":3000,"per_delivery_price":2400,"selling_plan_id":2971238634,"selling_plan_group_id":"4c729edfe5cf3e85b4b90e178fb53cdbfd1d0008"},{"price_adjustments":[{"position":1,"price":2400},{"position":2,"price":2700}],"price":2400,"compare_at_price":3000,"per_delivery_price":2400,"selling_plan_id":2971271402,"selling_plan_group_id":"4c729edfe5cf3e85b4b90e178fb53cdbfd1d0008"},{"price_adjustments":[{"position":1,"price":2400},{"position":2,"price":2700}],"price":2400,"compare_at_price":3000,"per_delivery_price":2400,"selling_plan_id":2971304170,"selling_plan_group_id":"4c729edfe5cf3e85b4b90e178fb53cdbfd1d0008"},{"price_adjustments":[{"position":1,"price":2400},{"position":2,"price":2700}],"price":2400,"compare_at_price":3000,"per_delivery_price":2400,"selling_plan_id":2971336938,"selling_plan_group_id":"4c729edfe5cf3e85b4b90e178fb53cdbfd1d0008"}]}, leafletMetafields: {}, },{ ...{"id":41585647583399,"title":"Ramen \/ 16 Sticks","option1":"Ramen","option2":"16 Sticks","option3":null,"sku":"IB-4348-2","requires_shipping":true,"taxable":false,"featured_image":{"id":31525850251431,"product_id":5251922919591,"position":4,"created_at":"2021-10-19T09:55:23-04:00","updated_at":"2022-01-28T14:05:22-05:00","alt":"flavor:Ramen","width":2048,"height":2048,"src":"\/\/www.barebonesbroth.com\/cdn\/shop\/products\/Ramen_8x2_f5dd1ddf-2fca-4b6e-aef9-a9ad3ea53fa8.png?v=1643396722","variant_ids":[41585647583399]},"available":true,"name":"Instant Bone Broth - Ramen \/ 16 Sticks","public_title":"Ramen \/ 16 Sticks","options":["Ramen","16 Sticks"],"price":3000,"weight":240,"compare_at_price":null,"inventory_management":"shopify","barcode":"","featured_media":{"alt":"flavor:Ramen","id":23990756049063,"position":4,"preview_image":{"aspect_ratio":1.0,"height":2048,"width":2048,"src":"\/\/www.barebonesbroth.com\/cdn\/shop\/products\/Ramen_8x2_f5dd1ddf-2fca-4b6e-aef9-a9ad3ea53fa8.png?v=1643396722"}},"requires_selling_plan":false,"selling_plan_allocations":[{"price_adjustments":[{"position":1,"price":2400},{"position":2,"price":2700}],"price":2400,"compare_at_price":3000,"per_delivery_price":2400,"selling_plan_id":2924249322,"selling_plan_group_id":"4c729edfe5cf3e85b4b90e178fb53cdbfd1d0008"},{"price_adjustments":[{"position":1,"price":2400},{"position":2,"price":2700}],"price":2400,"compare_at_price":3000,"per_delivery_price":2400,"selling_plan_id":2928541930,"selling_plan_group_id":"4c729edfe5cf3e85b4b90e178fb53cdbfd1d0008"},{"price_adjustments":[{"position":1,"price":2400},{"position":2,"price":2700}],"price":2400,"compare_at_price":3000,"per_delivery_price":2400,"selling_plan_id":2928574698,"selling_plan_group_id":"4c729edfe5cf3e85b4b90e178fb53cdbfd1d0008"},{"price_adjustments":[{"position":1,"price":2400},{"position":2,"price":2700}],"price":2400,"compare_at_price":3000,"per_delivery_price":2400,"selling_plan_id":2970943722,"selling_plan_group_id":"4c729edfe5cf3e85b4b90e178fb53cdbfd1d0008"},{"price_adjustments":[{"position":1,"price":2400},{"position":2,"price":2700}],"price":2400,"compare_at_price":3000,"per_delivery_price":2400,"selling_plan_id":2970976490,"selling_plan_group_id":"4c729edfe5cf3e85b4b90e178fb53cdbfd1d0008"},{"price_adjustments":[{"position":1,"price":2400},{"position":2,"price":2700}],"price":2400,"compare_at_price":3000,"per_delivery_price":2400,"selling_plan_id":2971009258,"selling_plan_group_id":"4c729edfe5cf3e85b4b90e178fb53cdbfd1d0008"},{"price_adjustments":[{"position":1,"price":2400},{"position":2,"price":2700}],"price":2400,"compare_at_price":3000,"per_delivery_price":2400,"selling_plan_id":2971042026,"selling_plan_group_id":"4c729edfe5cf3e85b4b90e178fb53cdbfd1d0008"},{"price_adjustments":[{"position":1,"price":2400},{"position":2,"price":2700}],"price":2400,"compare_at_price":3000,"per_delivery_price":2400,"selling_plan_id":2971074794,"selling_plan_group_id":"4c729edfe5cf3e85b4b90e178fb53cdbfd1d0008"},{"price_adjustments":[{"position":1,"price":2400},{"position":2,"price":2700}],"price":2400,"compare_at_price":3000,"per_delivery_price":2400,"selling_plan_id":2971107562,"selling_plan_group_id":"4c729edfe5cf3e85b4b90e178fb53cdbfd1d0008"},{"price_adjustments":[{"position":1,"price":2400},{"position":2,"price":2700}],"price":2400,"compare_at_price":3000,"per_delivery_price":2400,"selling_plan_id":2971140330,"selling_plan_group_id":"4c729edfe5cf3e85b4b90e178fb53cdbfd1d0008"},{"price_adjustments":[{"position":1,"price":2400},{"position":2,"price":2700}],"price":2400,"compare_at_price":3000,"per_delivery_price":2400,"selling_plan_id":2971173098,"selling_plan_group_id":"4c729edfe5cf3e85b4b90e178fb53cdbfd1d0008"},{"price_adjustments":[{"position":1,"price":2400},{"position":2,"price":2700}],"price":2400,"compare_at_price":3000,"per_delivery_price":2400,"selling_plan_id":2971205866,"selling_plan_group_id":"4c729edfe5cf3e85b4b90e178fb53cdbfd1d0008"},{"price_adjustments":[{"position":1,"price":2400},{"position":2,"price":2700}],"price":2400,"compare_at_price":3000,"per_delivery_price":2400,"selling_plan_id":2971238634,"selling_plan_group_id":"4c729edfe5cf3e85b4b90e178fb53cdbfd1d0008"},{"price_adjustments":[{"position":1,"price":2400},{"position":2,"price":2700}],"price":2400,"compare_at_price":3000,"per_delivery_price":2400,"selling_plan_id":2971271402,"selling_plan_group_id":"4c729edfe5cf3e85b4b90e178fb53cdbfd1d0008"},{"price_adjustments":[{"position":1,"price":2400},{"position":2,"price":2700}],"price":2400,"compare_at_price":3000,"per_delivery_price":2400,"selling_plan_id":2971304170,"selling_plan_group_id":"4c729edfe5cf3e85b4b90e178fb53cdbfd1d0008"},{"price_adjustments":[{"position":1,"price":2400},{"position":2,"price":2700}],"price":2400,"compare_at_price":3000,"per_delivery_price":2400,"selling_plan_id":2971336938,"selling_plan_group_id":"4c729edfe5cf3e85b4b90e178fb53cdbfd1d0008"}]}, leafletMetafields: {}, },{ ...{"id":41585654562983,"title":"Lemon Ginger \/ 16 Sticks","option1":"Lemon Ginger","option2":"16 Sticks","option3":null,"sku":"IB-4362-2","requires_shipping":true,"taxable":false,"featured_image":{"id":31525883117735,"product_id":5251922919591,"position":5,"created_at":"2021-10-19T09:57:48-04:00","updated_at":"2022-01-28T14:05:22-05:00","alt":"flavor:LemonGinger","width":2048,"height":2048,"src":"\/\/www.barebonesbroth.com\/cdn\/shop\/products\/Lemon_Ginger_8x2_c1fc1bad-cbf1-46fa-aa1e-f53a21b50803.png?v=1643396722","variant_ids":[41585654562983]},"available":true,"name":"Instant Bone Broth - Lemon Ginger \/ 16 Sticks","public_title":"Lemon Ginger \/ 16 Sticks","options":["Lemon Ginger","16 Sticks"],"price":3000,"weight":245,"compare_at_price":null,"inventory_management":"shopify","barcode":"","featured_media":{"alt":"flavor:LemonGinger","id":23990789275815,"position":5,"preview_image":{"aspect_ratio":1.0,"height":2048,"width":2048,"src":"\/\/www.barebonesbroth.com\/cdn\/shop\/products\/Lemon_Ginger_8x2_c1fc1bad-cbf1-46fa-aa1e-f53a21b50803.png?v=1643396722"}},"requires_selling_plan":false,"selling_plan_allocations":[{"price_adjustments":[{"position":1,"price":2400},{"position":2,"price":2700}],"price":2400,"compare_at_price":3000,"per_delivery_price":2400,"selling_plan_id":2924249322,"selling_plan_group_id":"4c729edfe5cf3e85b4b90e178fb53cdbfd1d0008"},{"price_adjustments":[{"position":1,"price":2400},{"position":2,"price":2700}],"price":2400,"compare_at_price":3000,"per_delivery_price":2400,"selling_plan_id":2928541930,"selling_plan_group_id":"4c729edfe5cf3e85b4b90e178fb53cdbfd1d0008"},{"price_adjustments":[{"position":1,"price":2400},{"position":2,"price":2700}],"price":2400,"compare_at_price":3000,"per_delivery_price":2400,"selling_plan_id":2928574698,"selling_plan_group_id":"4c729edfe5cf3e85b4b90e178fb53cdbfd1d0008"},{"price_adjustments":[{"position":1,"price":2400},{"position":2,"price":2700}],"price":2400,"compare_at_price":3000,"per_delivery_price":2400,"selling_plan_id":2970943722,"selling_plan_group_id":"4c729edfe5cf3e85b4b90e178fb53cdbfd1d0008"},{"price_adjustments":[{"position":1,"price":2400},{"position":2,"price":2700}],"price":2400,"compare_at_price":3000,"per_delivery_price":2400,"selling_plan_id":2970976490,"selling_plan_group_id":"4c729edfe5cf3e85b4b90e178fb53cdbfd1d0008"},{"price_adjustments":[{"position":1,"price":2400},{"position":2,"price":2700}],"price":2400,"compare_at_price":3000,"per_delivery_price":2400,"selling_plan_id":2971009258,"selling_plan_group_id":"4c729edfe5cf3e85b4b90e178fb53cdbfd1d0008"},{"price_adjustments":[{"position":1,"price":2400},{"position":2,"price":2700}],"price":2400,"compare_at_price":3000,"per_delivery_price":2400,"selling_plan_id":2971042026,"selling_plan_group_id":"4c729edfe5cf3e85b4b90e178fb53cdbfd1d0008"},{"price_adjustments":[{"position":1,"price":2400},{"position":2,"price":2700}],"price":2400,"compare_at_price":3000,"per_delivery_price":2400,"selling_plan_id":2971074794,"selling_plan_group_id":"4c729edfe5cf3e85b4b90e178fb53cdbfd1d0008"},{"price_adjustments":[{"position":1,"price":2400},{"position":2,"price":2700}],"price":2400,"compare_at_price":3000,"per_delivery_price":2400,"selling_plan_id":2971107562,"selling_plan_group_id":"4c729edfe5cf3e85b4b90e178fb53cdbfd1d0008"},{"price_adjustments":[{"position":1,"price":2400},{"position":2,"price":2700}],"price":2400,"compare_at_price":3000,"per_delivery_price":2400,"selling_plan_id":2971140330,"selling_plan_group_id":"4c729edfe5cf3e85b4b90e178fb53cdbfd1d0008"},{"price_adjustments":[{"position":1,"price":2400},{"position":2,"price":2700}],"price":2400,"compare_at_price":3000,"per_delivery_price":2400,"selling_plan_id":2971173098,"selling_plan_group_id":"4c729edfe5cf3e85b4b90e178fb53cdbfd1d0008"},{"price_adjustments":[{"position":1,"price":2400},{"position":2,"price":2700}],"price":2400,"compare_at_price":3000,"per_delivery_price":2400,"selling_plan_id":2971205866,"selling_plan_group_id":"4c729edfe5cf3e85b4b90e178fb53cdbfd1d0008"},{"price_adjustments":[{"position":1,"price":2400},{"position":2,"price":2700}],"price":2400,"compare_at_price":3000,"per_delivery_price":2400,"selling_plan_id":2971238634,"selling_plan_group_id":"4c729edfe5cf3e85b4b90e178fb53cdbfd1d0008"},{"price_adjustments":[{"position":1,"price":2400},{"position":2,"price":2700}],"price":2400,"compare_at_price":3000,"per_delivery_price":2400,"selling_plan_id":2971271402,"selling_plan_group_id":"4c729edfe5cf3e85b4b90e178fb53cdbfd1d0008"},{"price_adjustments":[{"position":1,"price":2400},{"position":2,"price":2700}],"price":2400,"compare_at_price":3000,"per_delivery_price":2400,"selling_plan_id":2971304170,"selling_plan_group_id":"4c729edfe5cf3e85b4b90e178fb53cdbfd1d0008"},{"price_adjustments":[{"position":1,"price":2400},{"position":2,"price":2700}],"price":2400,"compare_at_price":3000,"per_delivery_price":2400,"selling_plan_id":2971336938,"selling_plan_group_id":"4c729edfe5cf3e85b4b90e178fb53cdbfd1d0008"}]}, leafletMetafields: {}, },{ ...{"id":41585662984359,"title":"Mushroom \/ 16 Sticks","option1":"Mushroom","option2":"16 Sticks","option3":null,"sku":"IB-4331-2","requires_shipping":true,"taxable":false,"featured_image":{"id":31525899927719,"product_id":5251922919591,"position":6,"created_at":"2021-10-19T09:59:23-04:00","updated_at":"2022-01-28T14:05:22-05:00","alt":"flavor:Mushroom","width":2048,"height":2048,"src":"\/\/www.barebonesbroth.com\/cdn\/shop\/products\/Mushroom_8x2_da93c1b2-f5bf-46c8-8060-45eda672a868.png?v=1643396722","variant_ids":[41585662984359]},"available":true,"name":"Instant Bone Broth - Mushroom \/ 16 Sticks","public_title":"Mushroom \/ 16 Sticks","options":["Mushroom","16 Sticks"],"price":3000,"weight":270,"compare_at_price":null,"inventory_management":"shopify","barcode":"","featured_media":{"alt":"flavor:Mushroom","id":23990806085799,"position":6,"preview_image":{"aspect_ratio":1.0,"height":2048,"width":2048,"src":"\/\/www.barebonesbroth.com\/cdn\/shop\/products\/Mushroom_8x2_da93c1b2-f5bf-46c8-8060-45eda672a868.png?v=1643396722"}},"requires_selling_plan":false,"selling_plan_allocations":[{"price_adjustments":[{"position":1,"price":2400},{"position":2,"price":2700}],"price":2400,"compare_at_price":3000,"per_delivery_price":2400,"selling_plan_id":2924249322,"selling_plan_group_id":"4c729edfe5cf3e85b4b90e178fb53cdbfd1d0008"},{"price_adjustments":[{"position":1,"price":2400},{"position":2,"price":2700}],"price":2400,"compare_at_price":3000,"per_delivery_price":2400,"selling_plan_id":2928541930,"selling_plan_group_id":"4c729edfe5cf3e85b4b90e178fb53cdbfd1d0008"},{"price_adjustments":[{"position":1,"price":2400},{"position":2,"price":2700}],"price":2400,"compare_at_price":3000,"per_delivery_price":2400,"selling_plan_id":2928574698,"selling_plan_group_id":"4c729edfe5cf3e85b4b90e178fb53cdbfd1d0008"},{"price_adjustments":[{"position":1,"price":2400},{"position":2,"price":2700}],"price":2400,"compare_at_price":3000,"per_delivery_price":2400,"selling_plan_id":2970943722,"selling_plan_group_id":"4c729edfe5cf3e85b4b90e178fb53cdbfd1d0008"},{"price_adjustments":[{"position":1,"price":2400},{"position":2,"price":2700}],"price":2400,"compare_at_price":3000,"per_delivery_price":2400,"selling_plan_id":2970976490,"selling_plan_group_id":"4c729edfe5cf3e85b4b90e178fb53cdbfd1d0008"},{"price_adjustments":[{"position":1,"price":2400},{"position":2,"price":2700}],"price":2400,"compare_at_price":3000,"per_delivery_price":2400,"selling_plan_id":2971009258,"selling_plan_group_id":"4c729edfe5cf3e85b4b90e178fb53cdbfd1d0008"},{"price_adjustments":[{"position":1,"price":2400},{"position":2,"price":2700}],"price":2400,"compare_at_price":3000,"per_delivery_price":2400,"selling_plan_id":2971042026,"selling_plan_group_id":"4c729edfe5cf3e85b4b90e178fb53cdbfd1d0008"},{"price_adjustments":[{"position":1,"price":2400},{"position":2,"price":2700}],"price":2400,"compare_at_price":3000,"per_delivery_price":2400,"selling_plan_id":2971074794,"selling_plan_group_id":"4c729edfe5cf3e85b4b90e178fb53cdbfd1d0008"},{"price_adjustments":[{"position":1,"price":2400},{"position":2,"price":2700}],"price":2400,"compare_at_price":3000,"per_delivery_price":2400,"selling_plan_id":2971107562,"selling_plan_group_id":"4c729edfe5cf3e85b4b90e178fb53cdbfd1d0008"},{"price_adjustments":[{"position":1,"price":2400},{"position":2,"price":2700}],"price":2400,"compare_at_price":3000,"per_delivery_price":2400,"selling_plan_id":2971140330,"selling_plan_group_id":"4c729edfe5cf3e85b4b90e178fb53cdbfd1d0008"},{"price_adjustments":[{"position":1,"price":2400},{"position":2,"price":2700}],"price":2400,"compare_at_price":3000,"per_delivery_price":2400,"selling_plan_id":2971173098,"selling_plan_group_id":"4c729edfe5cf3e85b4b90e178fb53cdbfd1d0008"},{"price_adjustments":[{"position":1,"price":2400},{"position":2,"price":2700}],"price":2400,"compare_at_price":3000,"per_delivery_price":2400,"selling_plan_id":2971205866,"selling_plan_group_id":"4c729edfe5cf3e85b4b90e178fb53cdbfd1d0008"},{"price_adjustments":[{"position":1,"price":2400},{"position":2,"price":2700}],"price":2400,"compare_at_price":3000,"per_delivery_price":2400,"selling_plan_id":2971238634,"selling_plan_group_id":"4c729edfe5cf3e85b4b90e178fb53cdbfd1d0008"},{"price_adjustments":[{"position":1,"price":2400},{"position":2,"price":2700}],"price":2400,"compare_at_price":3000,"per_delivery_price":2400,"selling_plan_id":2971271402,"selling_plan_group_id":"4c729edfe5cf3e85b4b90e178fb53cdbfd1d0008"},{"price_adjustments":[{"position":1,"price":2400},{"position":2,"price":2700}],"price":2400,"compare_at_price":3000,"per_delivery_price":2400,"selling_plan_id":2971304170,"selling_plan_group_id":"4c729edfe5cf3e85b4b90e178fb53cdbfd1d0008"},{"price_adjustments":[{"position":1,"price":2400},{"position":2,"price":2700}],"price":2400,"compare_at_price":3000,"per_delivery_price":2400,"selling_plan_id":2971336938,"selling_plan_group_id":"4c729edfe5cf3e85b4b90e178fb53cdbfd1d0008"}]}, leafletMetafields: {}, },{ ...{"id":41585679237287,"title":"Thai Coconut \/ 16 Sticks","option1":"Thai Coconut","option2":"16 Sticks","option3":null,"sku":"IB-4355-2","requires_shipping":true,"taxable":false,"featured_image":{"id":31525930598567,"product_id":5251922919591,"position":7,"created_at":"2021-10-19T10:02:00-04:00","updated_at":"2022-01-28T14:05:22-05:00","alt":"flavor:ThaiCoconut","width":2048,"height":2048,"src":"\/\/www.barebonesbroth.com\/cdn\/shop\/products\/Thai_Coconut_8x2_55bb91a4-c4fc-436c-9a7b-813b3d06e4d1.png?v=1643396722","variant_ids":[41585679237287]},"available":true,"name":"Instant Bone Broth - Thai Coconut \/ 16 Sticks","public_title":"Thai Coconut \/ 16 Sticks","options":["Thai Coconut","16 Sticks"],"price":3000,"weight":272,"compare_at_price":null,"inventory_management":"shopify","barcode":"","featured_media":{"alt":"flavor:ThaiCoconut","id":23990837084327,"position":7,"preview_image":{"aspect_ratio":1.0,"height":2048,"width":2048,"src":"\/\/www.barebonesbroth.com\/cdn\/shop\/products\/Thai_Coconut_8x2_55bb91a4-c4fc-436c-9a7b-813b3d06e4d1.png?v=1643396722"}},"requires_selling_plan":false,"selling_plan_allocations":[{"price_adjustments":[{"position":1,"price":2400},{"position":2,"price":2700}],"price":2400,"compare_at_price":3000,"per_delivery_price":2400,"selling_plan_id":2924249322,"selling_plan_group_id":"4c729edfe5cf3e85b4b90e178fb53cdbfd1d0008"},{"price_adjustments":[{"position":1,"price":2400},{"position":2,"price":2700}],"price":2400,"compare_at_price":3000,"per_delivery_price":2400,"selling_plan_id":2928541930,"selling_plan_group_id":"4c729edfe5cf3e85b4b90e178fb53cdbfd1d0008"},{"price_adjustments":[{"position":1,"price":2400},{"position":2,"price":2700}],"price":2400,"compare_at_price":3000,"per_delivery_price":2400,"selling_plan_id":2928574698,"selling_plan_group_id":"4c729edfe5cf3e85b4b90e178fb53cdbfd1d0008"},{"price_adjustments":[{"position":1,"price":2400},{"position":2,"price":2700}],"price":2400,"compare_at_price":3000,"per_delivery_price":2400,"selling_plan_id":2970943722,"selling_plan_group_id":"4c729edfe5cf3e85b4b90e178fb53cdbfd1d0008"},{"price_adjustments":[{"position":1,"price":2400},{"position":2,"price":2700}],"price":2400,"compare_at_price":3000,"per_delivery_price":2400,"selling_plan_id":2970976490,"selling_plan_group_id":"4c729edfe5cf3e85b4b90e178fb53cdbfd1d0008"},{"price_adjustments":[{"position":1,"price":2400},{"position":2,"price":2700}],"price":2400,"compare_at_price":3000,"per_delivery_price":2400,"selling_plan_id":2971009258,"selling_plan_group_id":"4c729edfe5cf3e85b4b90e178fb53cdbfd1d0008"},{"price_adjustments":[{"position":1,"price":2400},{"position":2,"price":2700}],"price":2400,"compare_at_price":3000,"per_delivery_price":2400,"selling_plan_id":2971042026,"selling_plan_group_id":"4c729edfe5cf3e85b4b90e178fb53cdbfd1d0008"},{"price_adjustments":[{"position":1,"price":2400},{"position":2,"price":2700}],"price":2400,"compare_at_price":3000,"per_delivery_price":2400,"selling_plan_id":2971074794,"selling_plan_group_id":"4c729edfe5cf3e85b4b90e178fb53cdbfd1d0008"},{"price_adjustments":[{"position":1,"price":2400},{"position":2,"price":2700}],"price":2400,"compare_at_price":3000,"per_delivery_price":2400,"selling_plan_id":2971107562,"selling_plan_group_id":"4c729edfe5cf3e85b4b90e178fb53cdbfd1d0008"},{"price_adjustments":[{"position":1,"price":2400},{"position":2,"price":2700}],"price":2400,"compare_at_price":3000,"per_delivery_price":2400,"selling_plan_id":2971140330,"selling_plan_group_id":"4c729edfe5cf3e85b4b90e178fb53cdbfd1d0008"},{"price_adjustments":[{"position":1,"price":2400},{"position":2,"price":2700}],"price":2400,"compare_at_price":3000,"per_delivery_price":2400,"selling_plan_id":2971173098,"selling_plan_group_id":"4c729edfe5cf3e85b4b90e178fb53cdbfd1d0008"},{"price_adjustments":[{"position":1,"price":2400},{"position":2,"price":2700}],"price":2400,"compare_at_price":3000,"per_delivery_price":2400,"selling_plan_id":2971205866,"selling_plan_group_id":"4c729edfe5cf3e85b4b90e178fb53cdbfd1d0008"},{"price_adjustments":[{"position":1,"price":2400},{"position":2,"price":2700}],"price":2400,"compare_at_price":3000,"per_delivery_price":2400,"selling_plan_id":2971238634,"selling_plan_group_id":"4c729edfe5cf3e85b4b90e178fb53cdbfd1d0008"},{"price_adjustments":[{"position":1,"price":2400},{"position":2,"price":2700}],"price":2400,"compare_at_price":3000,"per_delivery_price":2400,"selling_plan_id":2971271402,"selling_plan_group_id":"4c729edfe5cf3e85b4b90e178fb53cdbfd1d0008"},{"price_adjustments":[{"position":1,"price":2400},{"position":2,"price":2700}],"price":2400,"compare_at_price":3000,"per_delivery_price":2400,"selling_plan_id":2971304170,"selling_plan_group_id":"4c729edfe5cf3e85b4b90e178fb53cdbfd1d0008"},{"price_adjustments":[{"position":1,"price":2400},{"position":2,"price":2700}],"price":2400,"compare_at_price":3000,"per_delivery_price":2400,"selling_plan_id":2971336938,"selling_plan_group_id":"4c729edfe5cf3e85b4b90e178fb53cdbfd1d0008"}]}, leafletMetafields: {}, },{ ...{"id":41585486889127,"title":"Variety \/ 32 Sticks","option1":"Variety","option2":"32 Sticks","option3":null,"sku":"VP-0010","requires_shipping":true,"taxable":false,"featured_image":{"id":31525805785255,"product_id":5251922919591,"position":3,"created_at":"2021-10-19T09:52:06-04:00","updated_at":"2022-01-28T14:05:22-05:00","alt":"flavor:Variety","width":2048,"height":2048,"src":"\/\/www.barebonesbroth.com\/cdn\/shop\/products\/Innovation_Variety_Pack.png?v=1643396722","variant_ids":[41585486889127]},"available":true,"name":"Instant Bone Broth - Variety \/ 32 Sticks","public_title":"Variety \/ 32 Sticks","options":["Variety","32 Sticks"],"price":6000,"weight":499,"compare_at_price":null,"inventory_management":"shopify","barcode":"","featured_media":{"alt":"flavor:Variety","id":23990711287975,"position":3,"preview_image":{"aspect_ratio":1.0,"height":2048,"width":2048,"src":"\/\/www.barebonesbroth.com\/cdn\/shop\/products\/Innovation_Variety_Pack.png?v=1643396722"}},"requires_selling_plan":false,"selling_plan_allocations":[{"price_adjustments":[{"position":1,"price":4800},{"position":2,"price":5400}],"price":4800,"compare_at_price":6000,"per_delivery_price":4800,"selling_plan_id":2924249322,"selling_plan_group_id":"4c729edfe5cf3e85b4b90e178fb53cdbfd1d0008"},{"price_adjustments":[{"position":1,"price":4800},{"position":2,"price":5400}],"price":4800,"compare_at_price":6000,"per_delivery_price":4800,"selling_plan_id":2928541930,"selling_plan_group_id":"4c729edfe5cf3e85b4b90e178fb53cdbfd1d0008"},{"price_adjustments":[{"position":1,"price":4800},{"position":2,"price":5400}],"price":4800,"compare_at_price":6000,"per_delivery_price":4800,"selling_plan_id":2928574698,"selling_plan_group_id":"4c729edfe5cf3e85b4b90e178fb53cdbfd1d0008"},{"price_adjustments":[{"position":1,"price":4800},{"position":2,"price":5400}],"price":4800,"compare_at_price":6000,"per_delivery_price":4800,"selling_plan_id":2970943722,"selling_plan_group_id":"4c729edfe5cf3e85b4b90e178fb53cdbfd1d0008"},{"price_adjustments":[{"position":1,"price":4800},{"position":2,"price":5400}],"price":4800,"compare_at_price":6000,"per_delivery_price":4800,"selling_plan_id":2970976490,"selling_plan_group_id":"4c729edfe5cf3e85b4b90e178fb53cdbfd1d0008"},{"price_adjustments":[{"position":1,"price":4800},{"position":2,"price":5400}],"price":4800,"compare_at_price":6000,"per_delivery_price":4800,"selling_plan_id":2971009258,"selling_plan_group_id":"4c729edfe5cf3e85b4b90e178fb53cdbfd1d0008"},{"price_adjustments":[{"position":1,"price":4800},{"position":2,"price":5400}],"price":4800,"compare_at_price":6000,"per_delivery_price":4800,"selling_plan_id":2971042026,"selling_plan_group_id":"4c729edfe5cf3e85b4b90e178fb53cdbfd1d0008"},{"price_adjustments":[{"position":1,"price":4800},{"position":2,"price":5400}],"price":4800,"compare_at_price":6000,"per_delivery_price":4800,"selling_plan_id":2971074794,"selling_plan_group_id":"4c729edfe5cf3e85b4b90e178fb53cdbfd1d0008"},{"price_adjustments":[{"position":1,"price":4800},{"position":2,"price":5400}],"price":4800,"compare_at_price":6000,"per_delivery_price":4800,"selling_plan_id":2971107562,"selling_plan_group_id":"4c729edfe5cf3e85b4b90e178fb53cdbfd1d0008"},{"price_adjustments":[{"position":1,"price":4800},{"position":2,"price":5400}],"price":4800,"compare_at_price":6000,"per_delivery_price":4800,"selling_plan_id":2971140330,"selling_plan_group_id":"4c729edfe5cf3e85b4b90e178fb53cdbfd1d0008"},{"price_adjustments":[{"position":1,"price":4800},{"position":2,"price":5400}],"price":4800,"compare_at_price":6000,"per_delivery_price":4800,"selling_plan_id":2971173098,"selling_plan_group_id":"4c729edfe5cf3e85b4b90e178fb53cdbfd1d0008"},{"price_adjustments":[{"position":1,"price":4800},{"position":2,"price":5400}],"price":4800,"compare_at_price":6000,"per_delivery_price":4800,"selling_plan_id":2971205866,"selling_plan_group_id":"4c729edfe5cf3e85b4b90e178fb53cdbfd1d0008"},{"price_adjustments":[{"position":1,"price":4800},{"position":2,"price":5400}],"price":4800,"compare_at_price":6000,"per_delivery_price":4800,"selling_plan_id":2971238634,"selling_plan_group_id":"4c729edfe5cf3e85b4b90e178fb53cdbfd1d0008"},{"price_adjustments":[{"position":1,"price":4800},{"position":2,"price":5400}],"price":4800,"compare_at_price":6000,"per_delivery_price":4800,"selling_plan_id":2971271402,"selling_plan_group_id":"4c729edfe5cf3e85b4b90e178fb53cdbfd1d0008"},{"price_adjustments":[{"position":1,"price":4800},{"position":2,"price":5400}],"price":4800,"compare_at_price":6000,"per_delivery_price":4800,"selling_plan_id":2971304170,"selling_plan_group_id":"4c729edfe5cf3e85b4b90e178fb53cdbfd1d0008"},{"price_adjustments":[{"position":1,"price":4800},{"position":2,"price":5400}],"price":4800,"compare_at_price":6000,"per_delivery_price":4800,"selling_plan_id":2971336938,"selling_plan_group_id":"4c729edfe5cf3e85b4b90e178fb53cdbfd1d0008"}]}, leafletMetafields: {}, },{ ...{"id":42437152604394,"title":"Multi Classic Combo \/ 16 Sticks","option1":"Multi Classic Combo","option2":"16 Sticks","option3":null,"sku":"VP-0005","requires_shipping":true,"taxable":false,"featured_image":{"id":36581265244394,"product_id":5251922919591,"position":8,"created_at":"2022-01-31T17:38:57-05:00","updated_at":"2022-01-31T17:38:57-05:00","alt":"flavor: Multi Classic Combo","width":1080,"height":1080,"src":"\/\/www.barebonesbroth.com\/cdn\/shop\/products\/BB_Instant_Classic_Mulitpack.png?v=1643668737","variant_ids":[42437152604394]},"available":true,"name":"Instant Bone Broth - Multi Classic Combo \/ 16 Sticks","public_title":"Multi Classic Combo \/ 16 Sticks","options":["Multi Classic Combo","16 Sticks"],"price":3000,"weight":241,"compare_at_price":null,"inventory_management":"shopify","barcode":"","featured_media":{"alt":"flavor: Multi Classic Combo","id":29135987769578,"position":8,"preview_image":{"aspect_ratio":1.0,"height":1080,"width":1080,"src":"\/\/www.barebonesbroth.com\/cdn\/shop\/products\/BB_Instant_Classic_Mulitpack.png?v=1643668737"}},"requires_selling_plan":false,"selling_plan_allocations":[{"price_adjustments":[{"position":1,"price":2400},{"position":2,"price":2700}],"price":2400,"compare_at_price":3000,"per_delivery_price":2400,"selling_plan_id":2924249322,"selling_plan_group_id":"4c729edfe5cf3e85b4b90e178fb53cdbfd1d0008"},{"price_adjustments":[{"position":1,"price":2400},{"position":2,"price":2700}],"price":2400,"compare_at_price":3000,"per_delivery_price":2400,"selling_plan_id":2928541930,"selling_plan_group_id":"4c729edfe5cf3e85b4b90e178fb53cdbfd1d0008"},{"price_adjustments":[{"position":1,"price":2400},{"position":2,"price":2700}],"price":2400,"compare_at_price":3000,"per_delivery_price":2400,"selling_plan_id":2928574698,"selling_plan_group_id":"4c729edfe5cf3e85b4b90e178fb53cdbfd1d0008"},{"price_adjustments":[{"position":1,"price":2400},{"position":2,"price":2700}],"price":2400,"compare_at_price":3000,"per_delivery_price":2400,"selling_plan_id":2970943722,"selling_plan_group_id":"4c729edfe5cf3e85b4b90e178fb53cdbfd1d0008"},{"price_adjustments":[{"position":1,"price":2400},{"position":2,"price":2700}],"price":2400,"compare_at_price":3000,"per_delivery_price":2400,"selling_plan_id":2970976490,"selling_plan_group_id":"4c729edfe5cf3e85b4b90e178fb53cdbfd1d0008"},{"price_adjustments":[{"position":1,"price":2400},{"position":2,"price":2700}],"price":2400,"compare_at_price":3000,"per_delivery_price":2400,"selling_plan_id":2971009258,"selling_plan_group_id":"4c729edfe5cf3e85b4b90e178fb53cdbfd1d0008"},{"price_adjustments":[{"position":1,"price":2400},{"position":2,"price":2700}],"price":2400,"compare_at_price":3000,"per_delivery_price":2400,"selling_plan_id":2971042026,"selling_plan_group_id":"4c729edfe5cf3e85b4b90e178fb53cdbfd1d0008"},{"price_adjustments":[{"position":1,"price":2400},{"position":2,"price":2700}],"price":2400,"compare_at_price":3000,"per_delivery_price":2400,"selling_plan_id":2971074794,"selling_plan_group_id":"4c729edfe5cf3e85b4b90e178fb53cdbfd1d0008"},{"price_adjustments":[{"position":1,"price":2400},{"position":2,"price":2700}],"price":2400,"compare_at_price":3000,"per_delivery_price":2400,"selling_plan_id":2971107562,"selling_plan_group_id":"4c729edfe5cf3e85b4b90e178fb53cdbfd1d0008"},{"price_adjustments":[{"position":1,"price":2400},{"position":2,"price":2700}],"price":2400,"compare_at_price":3000,"per_delivery_price":2400,"selling_plan_id":2971140330,"selling_plan_group_id":"4c729edfe5cf3e85b4b90e178fb53cdbfd1d0008"},{"price_adjustments":[{"position":1,"price":2400},{"position":2,"price":2700}],"price":2400,"compare_at_price":3000,"per_delivery_price":2400,"selling_plan_id":2971173098,"selling_plan_group_id":"4c729edfe5cf3e85b4b90e178fb53cdbfd1d0008"},{"price_adjustments":[{"position":1,"price":2400},{"position":2,"price":2700}],"price":2400,"compare_at_price":3000,"per_delivery_price":2400,"selling_plan_id":2971205866,"selling_plan_group_id":"4c729edfe5cf3e85b4b90e178fb53cdbfd1d0008"},{"price_adjustments":[{"position":1,"price":2400},{"position":2,"price":2700}],"price":2400,"compare_at_price":3000,"per_delivery_price":2400,"selling_plan_id":2971238634,"selling_plan_group_id":"4c729edfe5cf3e85b4b90e178fb53cdbfd1d0008"},{"price_adjustments":[{"position":1,"price":2400},{"position":2,"price":2700}],"price":2400,"compare_at_price":3000,"per_delivery_price":2400,"selling_plan_id":2971271402,"selling_plan_group_id":"4c729edfe5cf3e85b4b90e178fb53cdbfd1d0008"},{"price_adjustments":[{"position":1,"price":2400},{"position":2,"price":2700}],"price":2400,"compare_at_price":3000,"per_delivery_price":2400,"selling_plan_id":2971304170,"selling_plan_group_id":"4c729edfe5cf3e85b4b90e178fb53cdbfd1d0008"},{"price_adjustments":[{"position":1,"price":2400},{"position":2,"price":2700}],"price":2400,"compare_at_price":3000,"per_delivery_price":2400,"selling_plan_id":2971336938,"selling_plan_group_id":"4c729edfe5cf3e85b4b90e178fb53cdbfd1d0008"}]}, leafletMetafields: {}, },{ ...{"id":42442303406314,"title":"Multi Limited Edition \/ 16 Sticks","option1":"Multi Limited Edition","option2":"16 Sticks","option3":null,"sku":"VP-0013","requires_shipping":true,"taxable":false,"featured_image":{"id":36588171329770,"product_id":5251922919591,"position":9,"created_at":"2022-02-01T20:54:35-05:00","updated_at":"2022-02-01T20:54:35-05:00","alt":"Flavor: Multi Limited Edition","width":1080,"height":1080,"src":"\/\/www.barebonesbroth.com\/cdn\/shop\/products\/BB_Instant_LimitedEdition_Mulitpack.png?v=1643766875","variant_ids":[42442303406314]},"available":true,"name":"Instant Bone Broth - Multi Limited Edition \/ 16 Sticks","public_title":"Multi Limited Edition \/ 16 Sticks","options":["Multi Limited Edition","16 Sticks"],"price":3000,"weight":241,"compare_at_price":null,"inventory_management":"shopify","barcode":"","featured_media":{"alt":"Flavor: Multi Limited Edition","id":29143073259754,"position":9,"preview_image":{"aspect_ratio":1.0,"height":1080,"width":1080,"src":"\/\/www.barebonesbroth.com\/cdn\/shop\/products\/BB_Instant_LimitedEdition_Mulitpack.png?v=1643766875"}},"requires_selling_plan":false,"selling_plan_allocations":[{"price_adjustments":[{"position":1,"price":2400},{"position":2,"price":2700}],"price":2400,"compare_at_price":3000,"per_delivery_price":2400,"selling_plan_id":2924249322,"selling_plan_group_id":"4c729edfe5cf3e85b4b90e178fb53cdbfd1d0008"},{"price_adjustments":[{"position":1,"price":2400},{"position":2,"price":2700}],"price":2400,"compare_at_price":3000,"per_delivery_price":2400,"selling_plan_id":2928541930,"selling_plan_group_id":"4c729edfe5cf3e85b4b90e178fb53cdbfd1d0008"},{"price_adjustments":[{"position":1,"price":2400},{"position":2,"price":2700}],"price":2400,"compare_at_price":3000,"per_delivery_price":2400,"selling_plan_id":2928574698,"selling_plan_group_id":"4c729edfe5cf3e85b4b90e178fb53cdbfd1d0008"},{"price_adjustments":[{"position":1,"price":2400},{"position":2,"price":2700}],"price":2400,"compare_at_price":3000,"per_delivery_price":2400,"selling_plan_id":2970943722,"selling_plan_group_id":"4c729edfe5cf3e85b4b90e178fb53cdbfd1d0008"},{"price_adjustments":[{"position":1,"price":2400},{"position":2,"price":2700}],"price":2400,"compare_at_price":3000,"per_delivery_price":2400,"selling_plan_id":2970976490,"selling_plan_group_id":"4c729edfe5cf3e85b4b90e178fb53cdbfd1d0008"},{"price_adjustments":[{"position":1,"price":2400},{"position":2,"price":2700}],"price":2400,"compare_at_price":3000,"per_delivery_price":2400,"selling_plan_id":2971009258,"selling_plan_group_id":"4c729edfe5cf3e85b4b90e178fb53cdbfd1d0008"},{"price_adjustments":[{"position":1,"price":2400},{"position":2,"price":2700}],"price":2400,"compare_at_price":3000,"per_delivery_price":2400,"selling_plan_id":2971042026,"selling_plan_group_id":"4c729edfe5cf3e85b4b90e178fb53cdbfd1d0008"},{"price_adjustments":[{"position":1,"price":2400},{"position":2,"price":2700}],"price":2400,"compare_at_price":3000,"per_delivery_price":2400,"selling_plan_id":2971074794,"selling_plan_group_id":"4c729edfe5cf3e85b4b90e178fb53cdbfd1d0008"},{"price_adjustments":[{"position":1,"price":2400},{"position":2,"price":2700}],"price":2400,"compare_at_price":3000,"per_delivery_price":2400,"selling_plan_id":2971107562,"selling_plan_group_id":"4c729edfe5cf3e85b4b90e178fb53cdbfd1d0008"},{"price_adjustments":[{"position":1,"price":2400},{"position":2,"price":2700}],"price":2400,"compare_at_price":3000,"per_delivery_price":2400,"selling_plan_id":2971140330,"selling_plan_group_id":"4c729edfe5cf3e85b4b90e178fb53cdbfd1d0008"},{"price_adjustments":[{"position":1,"price":2400},{"position":2,"price":2700}],"price":2400,"compare_at_price":3000,"per_delivery_price":2400,"selling_plan_id":2971173098,"selling_plan_group_id":"4c729edfe5cf3e85b4b90e178fb53cdbfd1d0008"},{"price_adjustments":[{"position":1,"price":2400},{"position":2,"price":2700}],"price":2400,"compare_at_price":3000,"per_delivery_price":2400,"selling_plan_id":2971205866,"selling_plan_group_id":"4c729edfe5cf3e85b4b90e178fb53cdbfd1d0008"},{"price_adjustments":[{"position":1,"price":2400},{"position":2,"price":2700}],"price":2400,"compare_at_price":3000,"per_delivery_price":2400,"selling_plan_id":2971238634,"selling_plan_group_id":"4c729edfe5cf3e85b4b90e178fb53cdbfd1d0008"},{"price_adjustments":[{"position":1,"price":2400},{"position":2,"price":2700}],"price":2400,"compare_at_price":3000,"per_delivery_price":2400,"selling_plan_id":2971271402,"selling_plan_group_id":"4c729edfe5cf3e85b4b90e178fb53cdbfd1d0008"},{"price_adjustments":[{"position":1,"price":2400},{"position":2,"price":2700}],"price":2400,"compare_at_price":3000,"per_delivery_price":2400,"selling_plan_id":2971304170,"selling_plan_group_id":"4c729edfe5cf3e85b4b90e178fb53cdbfd1d0008"},{"price_adjustments":[{"position":1,"price":2400},{"position":2,"price":2700}],"price":2400,"compare_at_price":3000,"per_delivery_price":2400,"selling_plan_id":2971336938,"selling_plan_group_id":"4c729edfe5cf3e85b4b90e178fb53cdbfd1d0008"}]}, leafletMetafields: {}, },{ ...{"id":42460660203754,"title":"Multi Best Sellers \/ 16 Sticks","option1":"Multi Best Sellers","option2":"16 Sticks","option3":null,"sku":"VP-0014","requires_shipping":true,"taxable":false,"featured_image":{"id":36626421448938,"product_id":5251922919591,"position":10,"created_at":"2022-02-07T10:39:11-05:00","updated_at":"2022-02-07T10:39:11-05:00","alt":"Flavor: Multi Best Sellers","width":1080,"height":1080,"src":"\/\/www.barebonesbroth.com\/cdn\/shop\/products\/BB_Instant_BestSellers_Mulitpack.png?v=1644248351","variant_ids":[42460660203754]},"available":true,"name":"Instant Bone Broth - Multi Best Sellers \/ 16 Sticks","public_title":"Multi Best Sellers \/ 16 Sticks","options":["Multi Best Sellers","16 Sticks"],"price":3000,"weight":241,"compare_at_price":null,"inventory_management":"shopify","barcode":"","featured_media":{"alt":"Flavor: Multi Best Sellers","id":29182196482282,"position":10,"preview_image":{"aspect_ratio":1.0,"height":1080,"width":1080,"src":"\/\/www.barebonesbroth.com\/cdn\/shop\/products\/BB_Instant_BestSellers_Mulitpack.png?v=1644248351"}},"requires_selling_plan":false,"selling_plan_allocations":[{"price_adjustments":[{"position":1,"price":2400},{"position":2,"price":2700}],"price":2400,"compare_at_price":3000,"per_delivery_price":2400,"selling_plan_id":2924249322,"selling_plan_group_id":"4c729edfe5cf3e85b4b90e178fb53cdbfd1d0008"},{"price_adjustments":[{"position":1,"price":2400},{"position":2,"price":2700}],"price":2400,"compare_at_price":3000,"per_delivery_price":2400,"selling_plan_id":2928541930,"selling_plan_group_id":"4c729edfe5cf3e85b4b90e178fb53cdbfd1d0008"},{"price_adjustments":[{"position":1,"price":2400},{"position":2,"price":2700}],"price":2400,"compare_at_price":3000,"per_delivery_price":2400,"selling_plan_id":2928574698,"selling_plan_group_id":"4c729edfe5cf3e85b4b90e178fb53cdbfd1d0008"},{"price_adjustments":[{"position":1,"price":2400},{"position":2,"price":2700}],"price":2400,"compare_at_price":3000,"per_delivery_price":2400,"selling_plan_id":2970943722,"selling_plan_group_id":"4c729edfe5cf3e85b4b90e178fb53cdbfd1d0008"},{"price_adjustments":[{"position":1,"price":2400},{"position":2,"price":2700}],"price":2400,"compare_at_price":3000,"per_delivery_price":2400,"selling_plan_id":2970976490,"selling_plan_group_id":"4c729edfe5cf3e85b4b90e178fb53cdbfd1d0008"},{"price_adjustments":[{"position":1,"price":2400},{"position":2,"price":2700}],"price":2400,"compare_at_price":3000,"per_delivery_price":2400,"selling_plan_id":2971009258,"selling_plan_group_id":"4c729edfe5cf3e85b4b90e178fb53cdbfd1d0008"},{"price_adjustments":[{"position":1,"price":2400},{"position":2,"price":2700}],"price":2400,"compare_at_price":3000,"per_delivery_price":2400,"selling_plan_id":2971042026,"selling_plan_group_id":"4c729edfe5cf3e85b4b90e178fb53cdbfd1d0008"},{"price_adjustments":[{"position":1,"price":2400},{"position":2,"price":2700}],"price":2400,"compare_at_price":3000,"per_delivery_price":2400,"selling_plan_id":2971074794,"selling_plan_group_id":"4c729edfe5cf3e85b4b90e178fb53cdbfd1d0008"},{"price_adjustments":[{"position":1,"price":2400},{"position":2,"price":2700}],"price":2400,"compare_at_price":3000,"per_delivery_price":2400,"selling_plan_id":2971107562,"selling_plan_group_id":"4c729edfe5cf3e85b4b90e178fb53cdbfd1d0008"},{"price_adjustments":[{"position":1,"price":2400},{"position":2,"price":2700}],"price":2400,"compare_at_price":3000,"per_delivery_price":2400,"selling_plan_id":2971140330,"selling_plan_group_id":"4c729edfe5cf3e85b4b90e178fb53cdbfd1d0008"},{"price_adjustments":[{"position":1,"price":2400},{"position":2,"price":2700}],"price":2400,"compare_at_price":3000,"per_delivery_price":2400,"selling_plan_id":2971173098,"selling_plan_group_id":"4c729edfe5cf3e85b4b90e178fb53cdbfd1d0008"},{"price_adjustments":[{"position":1,"price":2400},{"position":2,"price":2700}],"price":2400,"compare_at_price":3000,"per_delivery_price":2400,"selling_plan_id":2971205866,"selling_plan_group_id":"4c729edfe5cf3e85b4b90e178fb53cdbfd1d0008"},{"price_adjustments":[{"position":1,"price":2400},{"position":2,"price":2700}],"price":2400,"compare_at_price":3000,"per_delivery_price":2400,"selling_plan_id":2971238634,"selling_plan_group_id":"4c729edfe5cf3e85b4b90e178fb53cdbfd1d0008"},{"price_adjustments":[{"position":1,"price":2400},{"position":2,"price":2700}],"price":2400,"compare_at_price":3000,"per_delivery_price":2400,"selling_plan_id":2971271402,"selling_plan_group_id":"4c729edfe5cf3e85b4b90e178fb53cdbfd1d0008"},{"price_adjustments":[{"position":1,"price":2400},{"position":2,"price":2700}],"price":2400,"compare_at_price":3000,"per_delivery_price":2400,"selling_plan_id":2971304170,"selling_plan_group_id":"4c729edfe5cf3e85b4b90e178fb53cdbfd1d0008"},{"price_adjustments":[{"position":1,"price":2400},{"position":2,"price":2700}],"price":2400,"compare_at_price":3000,"per_delivery_price":2400,"selling_plan_id":2971336938,"selling_plan_group_id":"4c729edfe5cf3e85b4b90e178fb53cdbfd1d0008"}]}, leafletMetafields: {}, },] } ); }